up to date advice on Wireless Kits
This month we are taking another look at Aftermarket Wireless Reverse Camera Kits. Recent improvements in the resolution in video cameras and improved interference resistance have produced some very interesting and attractive backup camera systems for the car market.
Haloview MC71017"digital wireless backup camera system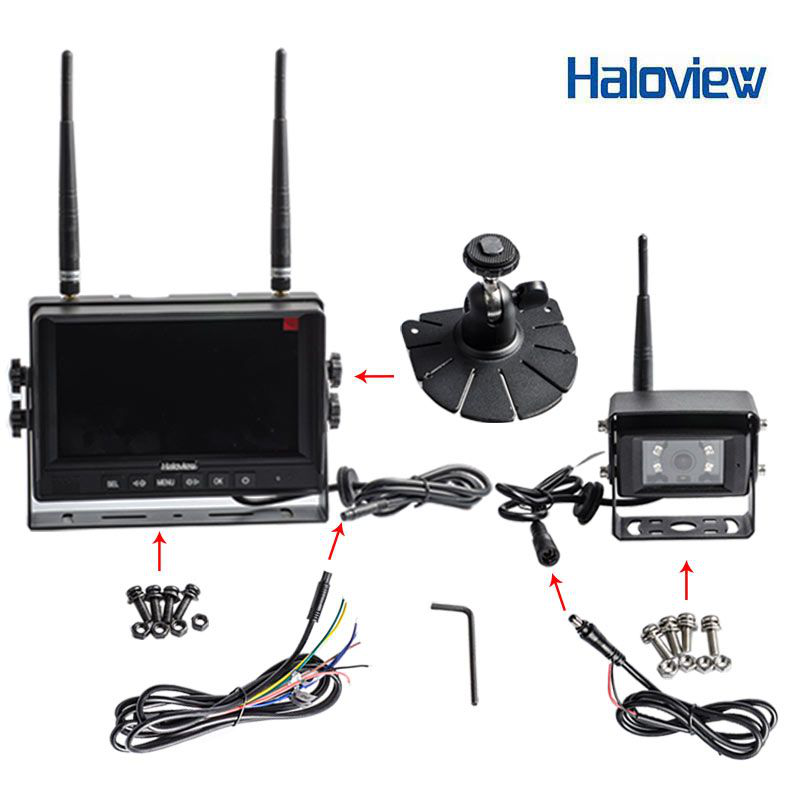 Haloview MC7101 wireless backup system with 7-inch Digital LCD Monitor focuses on vehicle safety. It is easy to install. It comes with a 16:9 LCD display and look comfortable, a pixel resolution of 800 X 480 which has high quality images. It is also built-in 2.4Ghz wireless video receiver and NTSC/PAL format is available. This system with built-in DVR,it is very useful while you need to record anyting, and it supports 4-channel composite and single-channel recording in AVI signal format. All the footage records onto a Micro-SD card or TF card with max 128G storage, and it loops over oldest recordings when the card gets full.
With 400 cd/m²brightness and max 4 wireless camera inputs, this system could be applied to a variety of vehicles that needs viewing assistance for drive. Suck as Truck,RV,trailer,harvester, crane,cargo van, intercity bus, box truck,forklift, motor coach,fifth wheel,travel trailer,horse trailer,garbage truck,ambulance,consruction equipment etc. The buttons of the monitor are humanized design - easy to operate, you would focus on driving and parking and not fumble with the small buttons. The Back-it buttons illuminate in the dark make it more convenient to operate.
MC7101 is a top rated product designed for all applications including both commercial and industrial vehicles. Haloview MC7101 also provide strong anti-interference and stable connection, with the receiving sensitivity of -89 dBm in the monitor, the transmission distance can be up to 120 meters free of barrier. Its delay is 120 ms which it's almost no delay of response, it is very important when you are backing up.
Frequency-Hopping Spread Spectrum (FHSS) is adopted in this system to gain strong anti-interference ability and keep stable and clear images. Auto dim function is also available. The monitor automatically adjusts back-lighting in accordance with the outer brightness. MC7101 system also has Built-in mic /speaker which enables you can hear the sound near the camera.
The Monitor is built with electronic cursor. The distance grid lines helps the driver to reverse the car more accurately. It can be switched on or off. The 7-inch wireless system is user oriented design and the power supply is wide from DC12--32V, it is perfect for all kinds of heavy-duty vehicles. This system comes with a full year warranty. Haloview makes your driving safer and easily.
Auto-Vox M1 W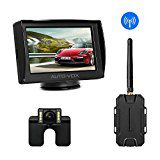 From AUTO-VOX an upgraded M1W Wireless Backup Camera Kit introduced last month and already with satisfied customers.
This reverse camera system has a similar 4.3" Color Monitor to that reviewed above. It has the suction cup for installing on dash or windscreen to give a clear view and the Monitor includes reversing guide lines.
The main upgrade is a new backup Camera with six 26 lumen LEDs to give excellent vision in all light conditions including at night. The LEDs will come on automatically dependant on the intensity of light at the time.
The new HD reversing camera can be fitted to your existing license plate mount and is connected by a slim wire to the wireless transmitter which is placed in the trunk. The actual connector to the wireless transmitter is only 5mm thus making its installation easy.
Click on the image for the best price.
So, for an extra $20 dollars or so, you will have much better night vision and an improved image.
Both these aftermarket kits from AutoVox have good reviews from customers.
Pyle Rear License Plate Camera and Replacement Rear View Mirror Monitor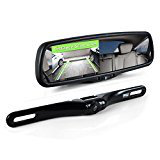 This Pyle Camera is one of the best wired kits for the money right now.
This particular camera system has some very good reviews, commenting on the OEM replacement mirror as the monitor (instead of a mirror monitor that you clip over the existing one), and the quality of the camera's image both day and night. This is a wired kit so either you need to be capable of fitting the cabling yourself or pay a professional service to install the system for you.
There are 2 video inputs which means that you can also connect this rear view mirror to your iPhone and utilise its Google Maps GPS system. This means the mirror monitor shows your backup camera when reversing and the Google Map system when driving. If your vehicle is not already equipped with GPS this could be extremely useful and at no extra cost.
The camera fits firmly on to the rear license plate and it has high waterproof and dust rating as well as a low LUX performance meaning good quality pictures in poor light.
Using 12 volts power, this backup camera kit is a good selection for a car, a pickup truck or a van with rear view mirror.
Why not take a look at this aftermarket backup camera kit from the Pyle range? This supplier has a good name for after sales service and advice.