BACKUP CAMERA INSTALLATION GUIDELINE 2018
One of the most difficult things to do with a large vehicle like an SUV, a sedan, Buses, RVs, and trucks is to reverse since you do not have a clear view of what is directly behind you. You might think that simply turning your head around would be sufficient but it still does not ensure that you are completely safe when backing up. A solution that is readily available to you is by purchasing a reversing backup camera so that you can safely back up without hitting anything. " how to install backup camera? " and its simple guideline in here to help you the best effort to install a backup camera in your vehicle.
To make these systems work, you need to hook up a camera and a monitor to your vehicle accordingly. When you are reversing your vehicle, the camera will activate and send a feed to the monitor so that you can backup safely without fear of hitting an object. If you are prone to hitting objects when backing up, then these systems will prove to be extremely beneficial.
Why You Need A Backup Camera Installed In Your Car:
Accident prevention is the main reasons for needing back up cameras for cars. You can minimize your chances of hitting someone or something while backing up if you can see exactly what is behind your vehicle, and that is only possible with a visual aid, like a backup camera.

Installing a vehicle backup camera is a matter of safety and a must for those with small children it can help those with poor visibility issues to prevent possibly hitting their children.

The other reason why you need to install backup cameras at the rear of your car is also the issue of financial damage that may arise once you hit on objects. Although no data is available, the cost of all these back over accidents must be extremely high. The cost of injuries aside; let alone thinking of the cost to repair property, vehicles, and the time spent sorting out these accidents.

The Backup camera systems represent the newest breakthrough in car safety. Just like the shuttering glass and the seat belts invented before this a current safety installation that cannot be avoided.
What you Need to Install the Rear Backup Camera:The tools you will need are simple:
Either a blade or Philips screwdriver to remove the license plate, license plate light, and mount the camera Double-sided electrical tape in lieu of screws to mount the transmitter or power supply in the rear of your vehicle.

You may want to use a drill driver to mount the wireless transmitter inside the rear of your vehicle If you are unable to take advantage of the license plate light to route wiring.

You may need to use a drill to make a small hole to route the wires If you do have to drill a hole.

Make sure you use the rubber grommet that comes with the kit to protect the wires from the rough edges of the hole wiring connections.

To splice the power cables into the backup light wiring Make sure you have an available 12V power port to plug-in the video display monitor or have a plan for how your will hardwired the video display into your existing under-dash wiring.

Backup Camera Installation Guide:
Obviously, the first step is to find an appropriate camera for your car. If you research online, you will find systems that can be used universally as well as ones made for specific makes and models. There will also be a difference based on the type of automobile you own. There are many models and types of back up camera ranging from flush mount cameras, surface mount cameras, and license plate cameras to choose the best backup camera for car rear you first need to know your test and preferences. For non-cars, that is trucks, and van you need a truck or rear view cameras. Many people will choose to place the vehicle's lens on or around the back bumper or on top of the vehicle at the back.

After identifying the type of camera for your car make holes by drilling them on the rear license plate first, you need to get off the license plate before making any hole on it. Most backup cameras come with holes already drilled into them all that you need to do is to position the camera on the number plate then drill the holes on the right positions. This will cater for irregularities such wrong drilling diameters.

Most backup cameras are designed to use the car rear lighting system this is convenient in that the camera is power on when you hit the reverse gear and send a signal to the monitor at the front of the car.

After mounting the camera, you need to connect the camera to the reverse lighting system cut up the camera power cables and make a wiretap by connecting the cables to those of the lighting system don't for the terminals check the user's manual for information on the right color designated for every cable.

Everything is completed. As long as it seems to be working, you are set. You have finally fixed up your own license plate backup camera successfully.

Use an electrical tape to cover the open wires this is important to prevent a future accident or any likely wire shorting that can result in unnecessarily damages in the future.

Next, connect the video cable to the monitor you can pass the connecting wire on the top part of the car making it easy when connecting it to the monitor embedded in the rear mirror.

For wireless backup cameras, you don't need a wired connection to the monitor. You need a transmitter system that will make the connection straight from the camera to the monitor. Connect the camera power cables to the transmitter and connect a receiver gadget to the monitor at the front of the car.

Once you are done with connecting the video cable, you need to install the monitor. The most common places for the monitor are on the dashboard, the sun visor, and in the rear view mirror. Examine each location as you pick your preference. Once again, refer to the directions and use in installation guidance given alongside the installation tools kit.

After you have installed the monitor the next thing to do is you can engage the reverse gear then adjust the angle view of your camera to ensure that it effectively covers a large area.
With the development of LCD technology, smart cabling, and computer video chip, less expensive backup systems have become more accessible and accommodating to the rear view owner. In fact, most new rear view camera models have backup systems available, if they are not as the original equipment. Not only are the availability of this new generation of backup systems great aim to the operation of your RV but also to the safety of the vehicle.
However, think about what you often get when you pay for something. Cheap system may also be made by using inferior components. They might be not effective in low light; they may be more susceptible to weather and moisture due to poor fitting cases; the parts assembly may be assembled by using inferior solder and electrical parts. Your system may also be overly expensive, possibly because it is over built. In order to find the system that best fits your needs and wallet, make sure to consult with your local dealer about your particular backup camera, talk to the experts at a rear view parts outlet; do some research online- also ask some fellow backup camera owners about their systems and experience.
Haloview MC7101 7" digital wireless backup camera system with built-in DVR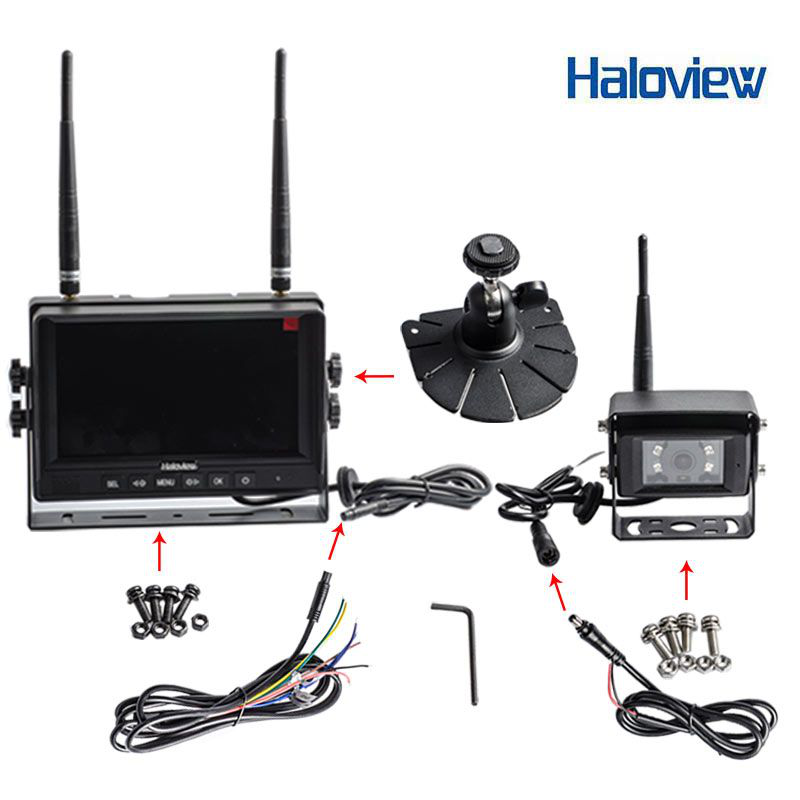 Haloview MC7101 wireless backup system with 7-inch Digital LCD Monitor focuses on safety driving. With a 16:9 LCD display and 800x480 resolution, it takes on high quality images. It also has built-in 2.4Ghz wireless video receiver with NTSC/PAL format. Built-in DVR makes it a surveillance system.Itsupports4-channel and single-channel recording in AVI signal format. All the footage records onto a Micro-SD card or TF card with max 128G storage. and it will overwrite the oldest recordings when the card gets full.
With 400 cd/m²brightness and max 4 wireless camera inputs, this system can be applied to a variety of vehicles that needs viewing assistance for drive such as Truck, RV, trailer, harvester, crane, cargo van, intercity bus, box truck, forklift, motor coach, fifth wheel, travel trailer, horse trailer, garbage truck, ambulance, construction equipment etc. The trigger can help switch screen display automatically without pressing button to avoid diverting the driver's attention during driving. MC7101 is a top rated product designed for various applications. It has strong anti-interference and stable connection ability. With the receiving sensitivity of -89 dBm in the monitor, the transmission distance can reach 120 meters line of sight. Frequency-Hopping Spread Spectrum (FHSS) is adopted in this system to improve anti-interference ability and keep images stable and clear. Auto dim function is also available. The monitor automatically adjusts back-lighting in accordance with the outer brightness. MC7101 system also has Built-in mic /speaker which enables you to hear the sound nearby.
The Monitor has parking lines, which help the driver to reverse the car more accurately. It can be switched on or off. The 7-inch wireless system is user-oriented design and the power supply is wide from DC12V to 32V so it is perfect for all kinds of heavy-duty vehicles. We offer a full year warranty for this product. Haloview makes your driving safer and easier.