If you are looking for the best wired or wireless backup camera for RV traveling, then you have come to the right place. Haloview is a leading company in backup cameras, and they have produced a two camera wired rear vision camera, which is a top product. We recommend this wired product for Rv's, but if you really need a wireless unit then check out the Haloview MC7101-3 7" digital wireless backup camera,Wired or wireless backup camera for RV?

One customer actually gives this product and the company Haloview a massive ten stars out of five. That's right…ten stars out of five. That is the best review I have ever seen on Amazon.com. Why such a great review? The product is durable and the customer service was fantastic. I wouldn't blame you if you are thinking this can't be true, so here is the link to prove it! While you are there look at what other folks have said about the camera.
Haloview MC7101 7" digital wireless backup camera system with built-in DVR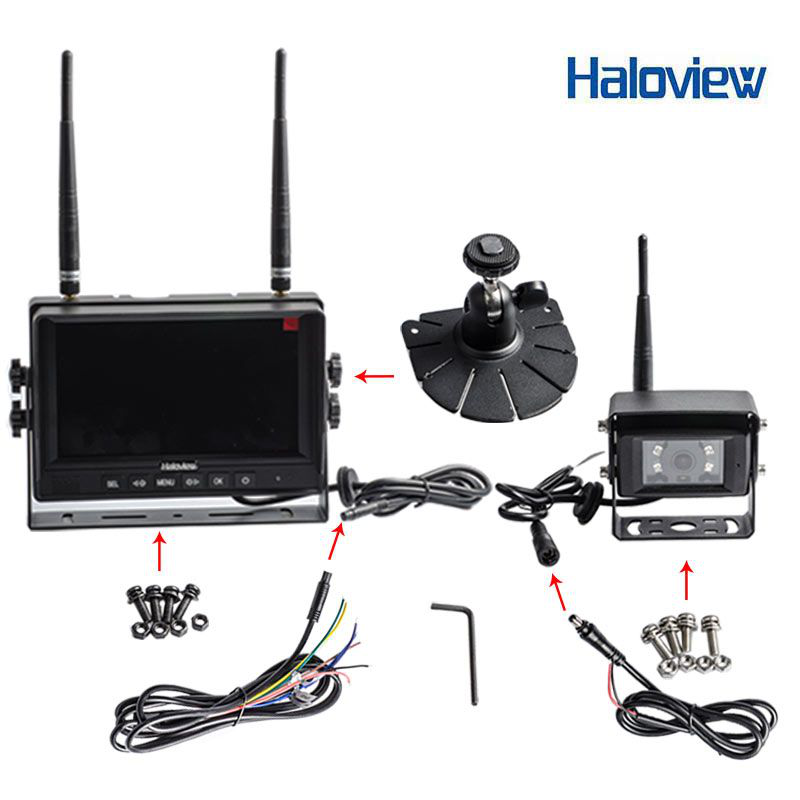 1. 7" LCD digital wireless monitor with 16:9 aspect ratio,800x480 pixel
2. Split /quad mode, auto-scan mode and single-display mode available 
3. 10-32V wide voltage input,max 4 wireless camera input
4. Built-in recorder. Real time recording, video playback.
5 .Built-in mic and speaker for audio. Auto dim function available.
6. Built-in SMART IR-CUT filter image color and more realistic
7. Low-power function. If wireless camera is not connected to monitor for 30 seconds, the camera will enter low-power mode , this function can save power by turn off the monitor when you are using battery
8. Normal, mirror, FLIP, MIRROR-FLIP viewing options available
9. Instant auto pairing: the wireless camera and monitor pair together happens when camera is activated.
10. Latency of 120ms which it's almost no delay of response.
11. 4 high power IR LED provide 32 feet of night vision for camera
12. 120° wide viewing angle. Open transmission distance up to 120m.
13. The camera's waterproof level is IP69K rating (highest IP rating) and the vibration rating is 10G.Cons of this Backup Camera for RV:
Price: Unfortunately a two camera unit, with all of the aforementioned benefits, is going to cost you around $300, but if you are driving around an RV, chances are, that this could fit into your budget. Keep in mind the investment is an investment in protecting your vehicle and your family.
Not perfect: There have been reports of faulty products, which needed some extra work to get up and running, but this is pretty standard for automotive electronics. Some, are simply going to have the odd problem. The vast majority of customers have received a well working product.
Installation: Because this is a wired backup camera for Rv traveling you are going to need to run a lot of wiring. If you really prefer the wireless option then you should checkout the shift trailer hitch rear view camera.