How we pick wireless backup camera?
Yes, this part is the tough part. You have to be careful while picking the best wireless camera for your car.
While purchasing a backup camera at first you have to decide why and how you will use this camera. Exactly what features you need in a wireless camera. So it is better to note out the features you want in a camera to have that you will install it. Confused? Don't worry, I will help you. Here are the main features of the wireless camera that are must to have.
Camera angle:
This helps to let you see the view in width in the camera. The view gets wider as the angle gets wider. The camera with 170-degree angle is perfect for viewing.
Night image:
This feature is very important. In night time and low light, it is quite difficult to drive safely. You have to select the camera with a night vision camera.
Easy installment:
Look for the backup camera with easy installment feature.
Screen:
It is important to pick a screen that will help you to give a clear image.
Mirror image:
This feature helps you to view the image in your rear view clearly.
At A Glance Of The Best Wireless Backup Camera:
Haloview digital wireless backup camera it's the hot camera that has become popular this year.The private model it advertises will make the common mold cameras on amazon look uncharacteristic.Your experience will be amazing to have a MC7101. Yada wireless backup camera is the camera with easy control and confirms safe driving.Premium 7" inch rear view car LCD monitor by Pyle is high in quality image provider backup camera. AutoVox wireless backup camera is the most sturdy and long lasting wireless backup camera for a car in the market. Garmin BC 30 wireless backup camera.
#1. Haloview wireless backup camera system MC7101: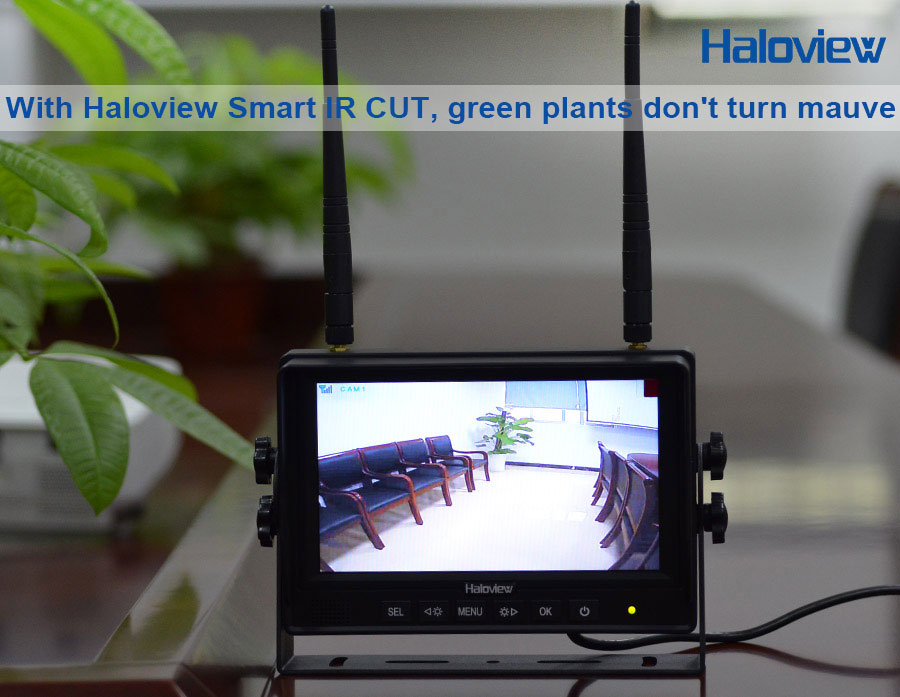 Haloview MC7101 is a very popular wireless backup camera system. This MC7101 is definitely the most cost-effective best seller camera i ever seen. 7" LCD digital wireless monitor with 16:9 aspect ratio,800x480 pixel, Built-in SMART IR-cut, Instant auto pairing, 120 ° wide viewing Angle, and IP69K. Only the factory direct sale can achieve this price.Unfortunately, Haloview's  marketing is not good, and can't see any its ads. 
Features:
1. 7" LCD digital wireless monitor with 16:9 aspect ratio,800x480 pixel
2. Split /quad mode, auto-scan mode and single-display mode available 
3. 10-32V wide voltage input,max 4 wireless camera input 
4. Built-in recorder. Real time recording, video playback.
5 .Built-in mic and speaker for audio. Auto dim function available.
6. Built-in SMART IR-CUT filter image color and more realistic
7. Normal, mirror, FLIP, MIRROR-FLIP viewing options available
8. Instant auto pairing: the wireless camera and monitor pair together happens when camera is activated.
9. Latency of 120ms which it's almost no delay of response.
10. 4 high power IR LED provide 32 feet of night vision for camera
11. 120° wide viewing angle. Open transmission distance up to 120m.
12. The camera's waterproof level is IP69K rating (highest IP rating) and the vibration rating is 10G.
Pros:
Performance and function beats most cameras on the market.
The signal is stronger than other system on the market.
The picture is clearer than most products.
The price of this quality is the cheapest in the world.
Cons:
The manual instructions are not detailed enough.
English grammar mistakes.

#2. Yada (BT53872M-2) Matte Black Digital Wireless Backup Camera:

This best wireless backup camera for the car is designed to help in reducing blind spot. You will enjoy secure driving and easy to see behind your car back on the dashboard monitor. The whole system is wireless and easy to control. You can install the camera in the license plate easily. You will get the clear image on the monitor. This camera is fully controlled with technology. No dealing with the wire here in this camera. The monitor and the camera are automatic and fast.
Features:
When you have done with install then just power on the power and connect the camera. The transition is wireless.

The monitor is large 3.5".

You can place the camera in the license plate and the camera is waterproof.

System transition is done with digital wireless technology.

You can easily install the camera.
Pros:
Great camera with wireless option.

The big 3.5" inch monitor gives a clear and colorful image.

Rearview camera is wide and clear.
Cons:
Sometimes the picture gets fuzzy.
#3. Pyle – Parking Monitor Assistant With Wireless (PLHR70):

To make your driving easy get this wireless backup camera for your car. You will get a great car assistant by this camera. The image quality and video are clear and HD. LCD monitor is 7" inch and full color. The video inputs are dual RCA and help you to connect to another video source. The material of the camera is high in quality and long lasting. By installing this camera you will get a parking assistant with a wireless remote. This camera is fast and easy to use.
Features:
You can park your car with care and less effort with this rearview camera.

Perfect camera for any vehicle.

The 7" inch monitor is full wide and color image. LCD display gives the high-quality image.

The whole system is wireless and can be operated with remote control.
Pros:
Great in quality display screen.

Reasonable in price.

Good material.
Cons:
Sometimes the camera doesn't start automatically.
#4. AUTO VOX Wireless Backup Camera:
When you are reversing your car in low light, the night vision camera will help you to park with ease. The camera is smart in design.This cam positioned a number of the maximum immoderate man or lady effectively disposed again view video systems available to be had. It accompanies a concealed phase that might now not cowl any information to your tag, aside from the way in which which you want now not bore openings to mount it.
Features:
This wireless camera saves your money and time.

The design of the camera is user-friendly and easy to use.

The signal transmission is stable and the image is high resolution.

Strong and sturdy in any weather condition.
Pros:
Great backup camera with easy installation.

The image quality is amazing.

Wireless camera with easy operating system.
Cons:
It is not safe to drive with this camera in a thunderstorm.
#5. Garmin BC 30 Wireless Backup Camera:

A quality backup camera with a reverse easy option. This camera has GPS navigator. Wires of the camera provide constant power among camera and navigation mode. Perfect for any weather condition. Your car reverse will be very easy and safe with this quality backup camera. The blind zone accidents get minimize with this wireless backup camera. The image quality of this camera is very clear and colorful. You can use 4 cameras at a time with this wireless backup camera.
Features:
Pairs with Garmin Nuvi easily.

You can use four cameras together.

The signal transmits easily up to 45 ft.
Pros:
Great product with awesome quality.

Easy to install.
Cons:
The picture quality is poor.
A Best wireless backup camera is now an essential part of a car/ RV. Your driving will be safe and fast with the camera installed in your car. This new technology is really appreciable and cool. You will experience a new and safe driving. If you own an old car and don't have a camera, do install it as it is must nowadays.