Haloview MC7101 7" digital wireless backup camera system with built-in DVR
Special Price
$199.80
Regular Price
$222.00
1. 7" LCD digital wireless monitor with 16:9 aspect ratio,800x480 pixel.NOT:648x488
2. Split /quad mode, auto-scan mode and single-display mode available 
3. 10-32V wide voltage input,max 4 wireless camera input
4. Built-in recorder. Real time recording, video playback.
5 .Built-in mic and speaker for audio. Auto dim function available.
6. Built-in SMART IR-CUT filter image color and more realistic
7. Low-power function. If wireless camera is not connected to monitor for 30 seconds, the camera will enter low-power mode , this function can save power by turn off the monitor when you are using battery
8. Normal, mirror, FLIP, MIRROR-FLIP viewing options available
9. Instant auto pairing: the wireless camera and monitor pair together happens when camera is activated.
10. Latency of 120ms which it's almost no delay of response.
11. 4 high power IR LED provide 32 feet of night vision for camera
12. 120° wide viewing angle. Open transmission distance up to 120m.
13. The camera's waterproof level is IP69K rating (highest IP rating) and the vibration rating is 10G.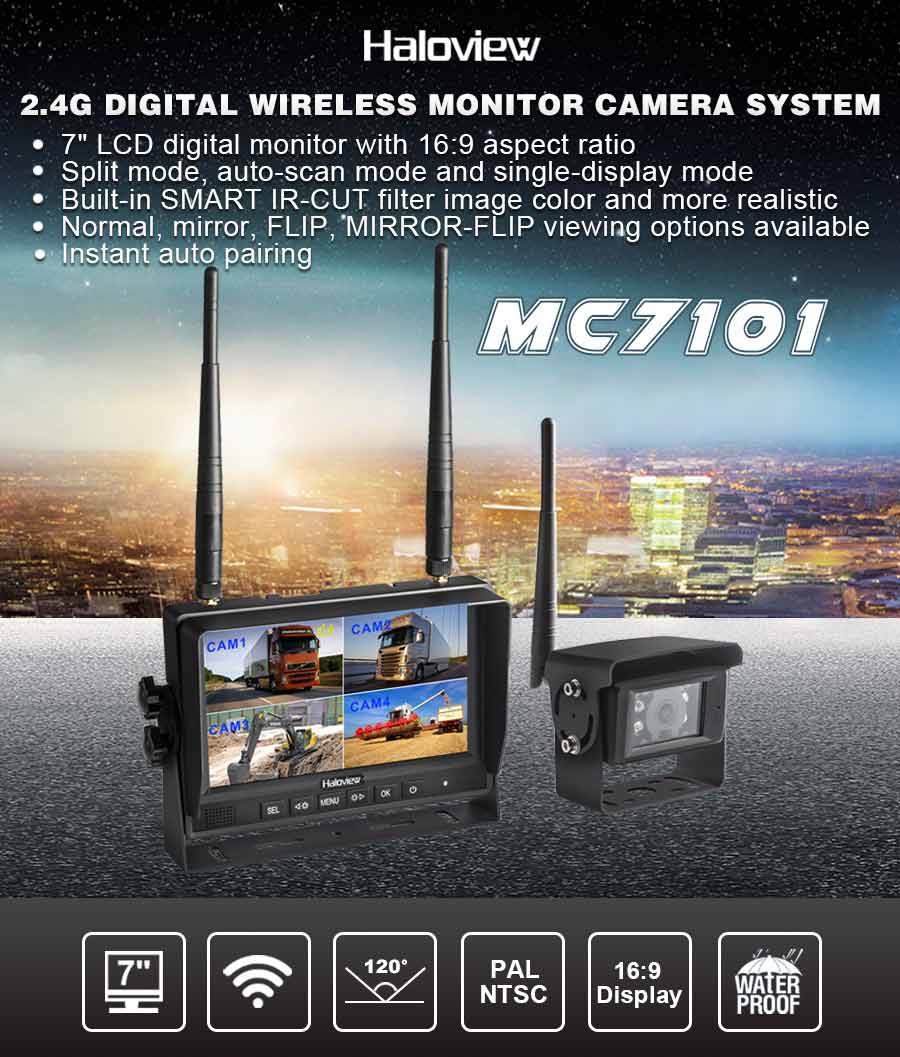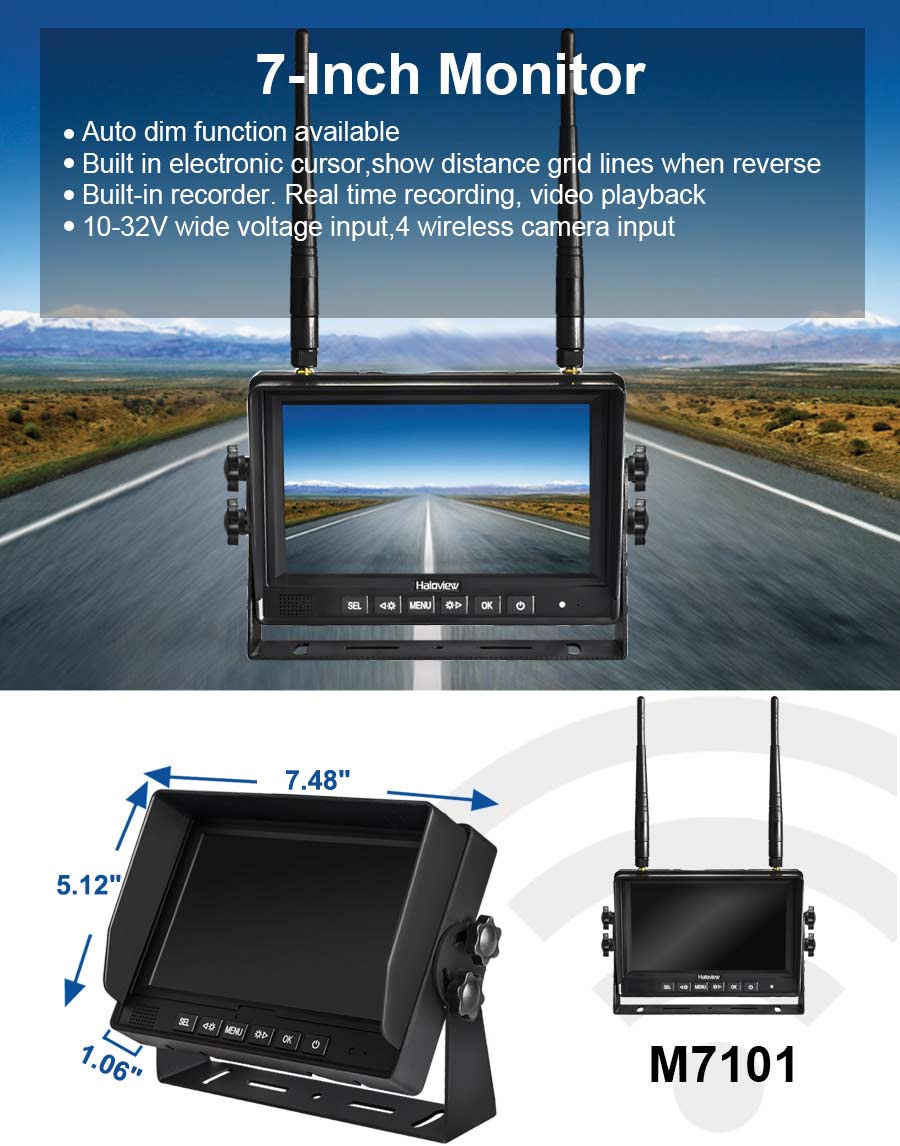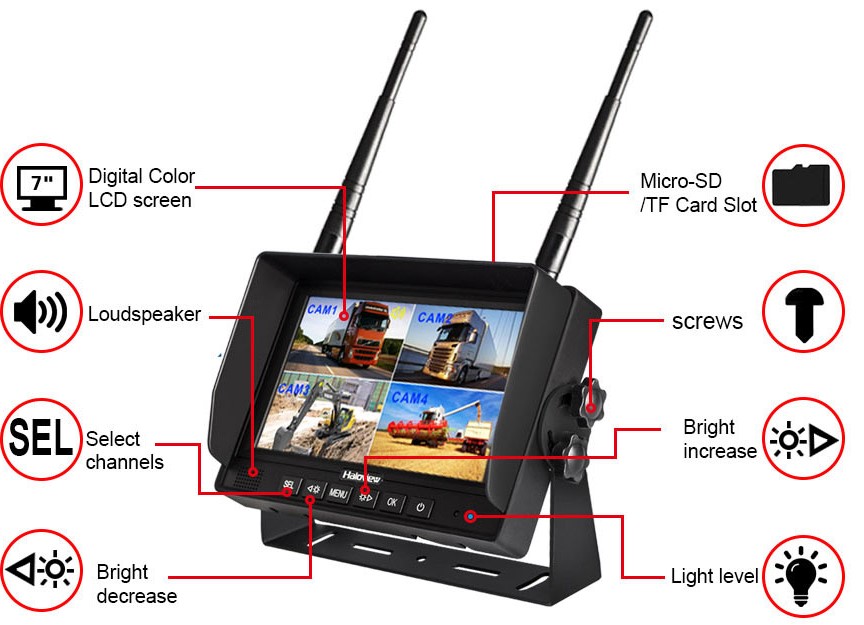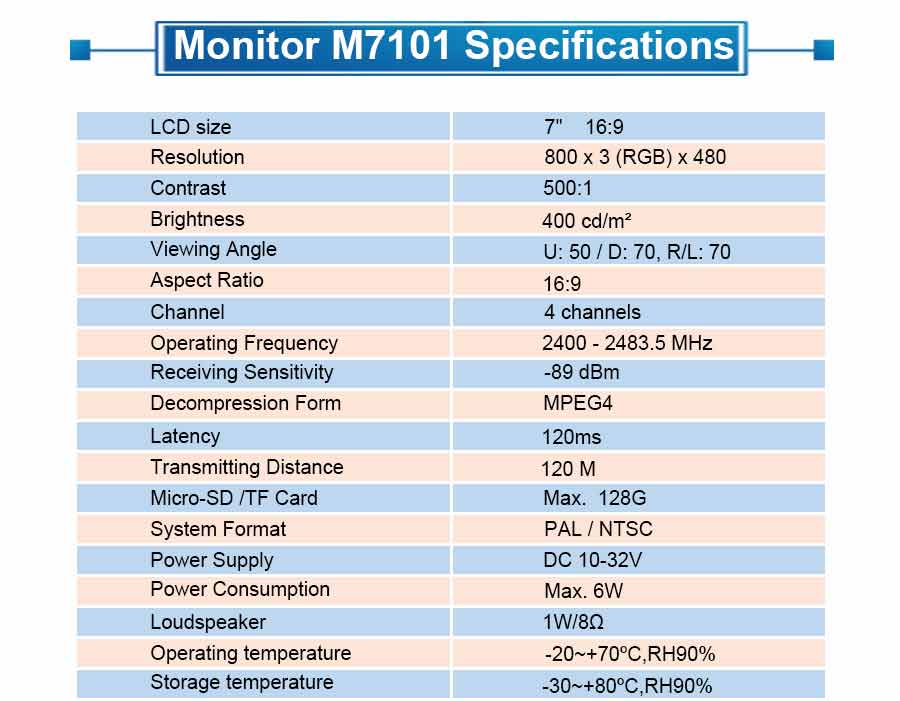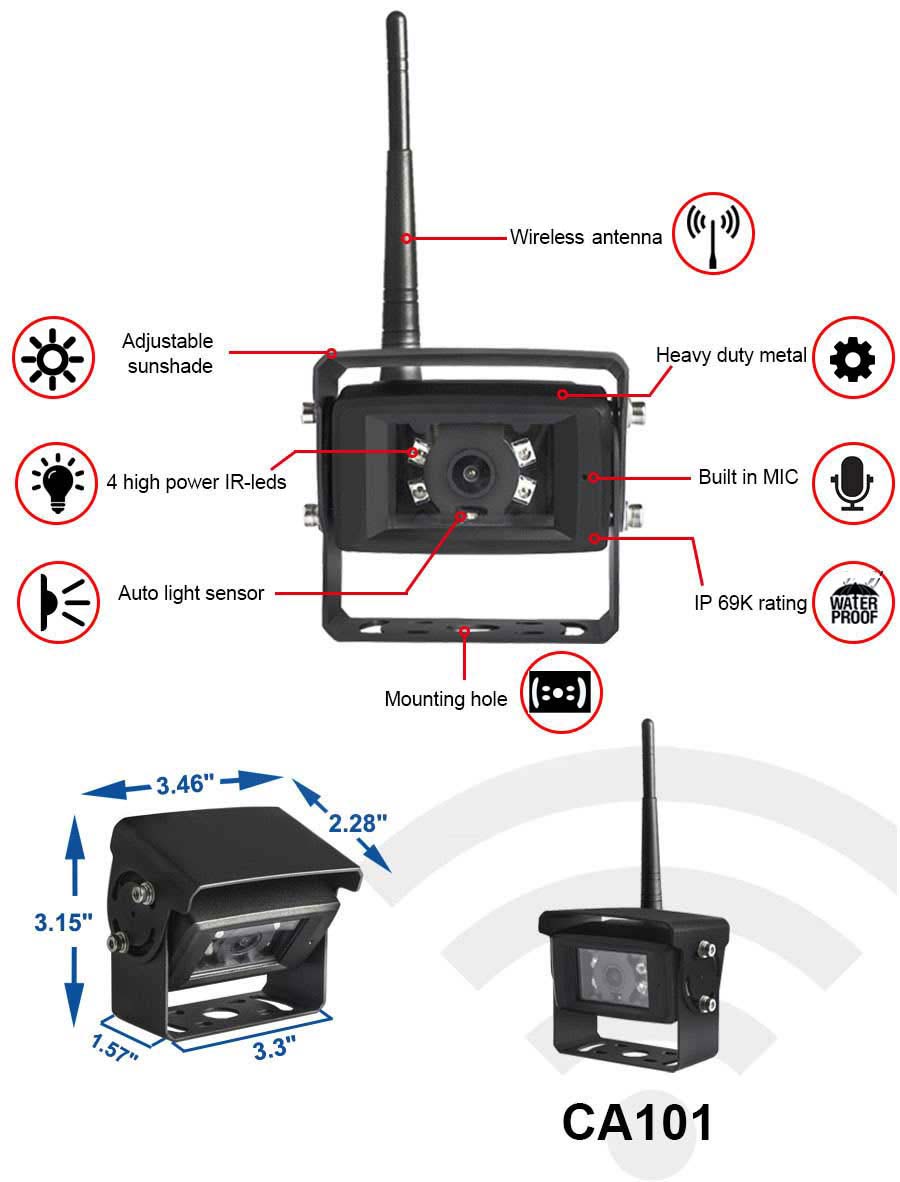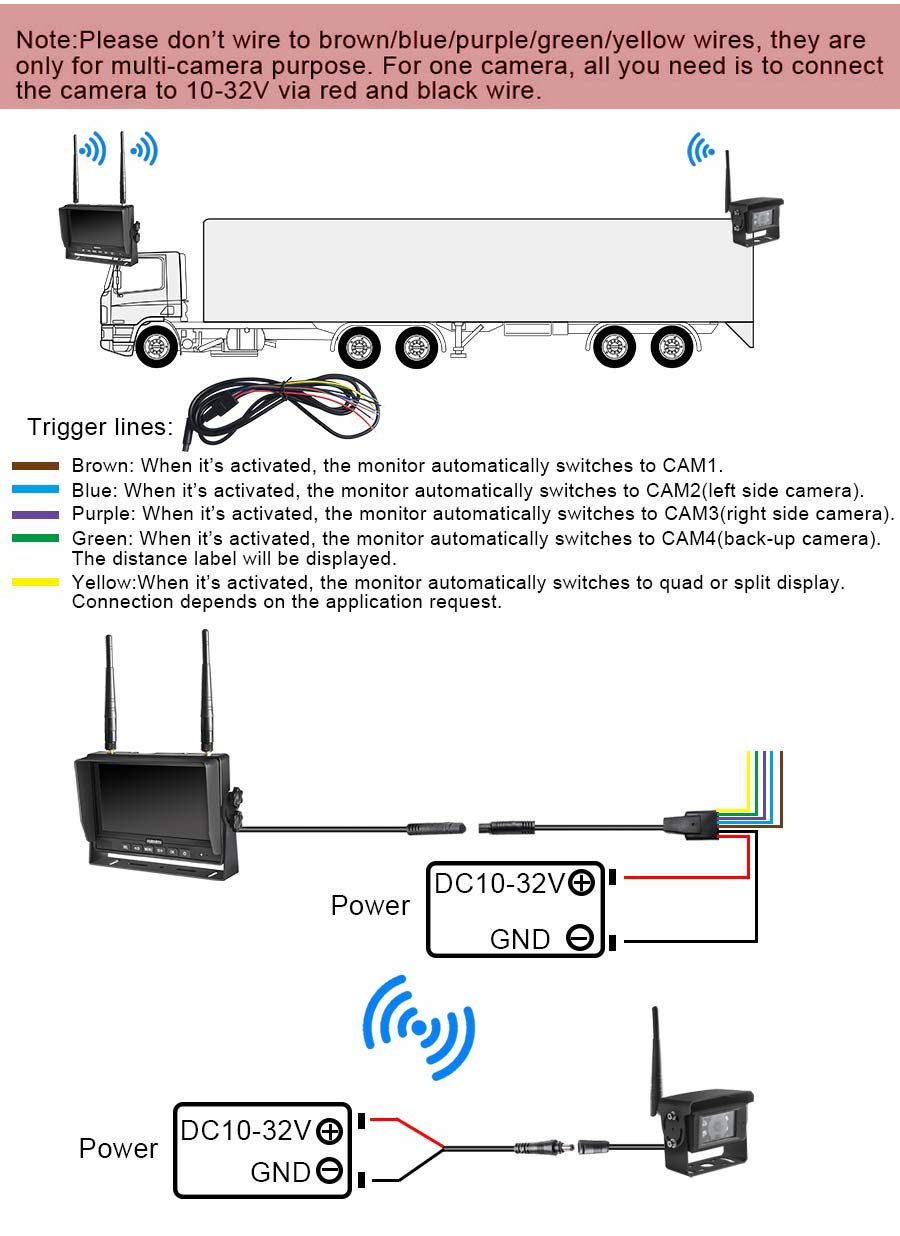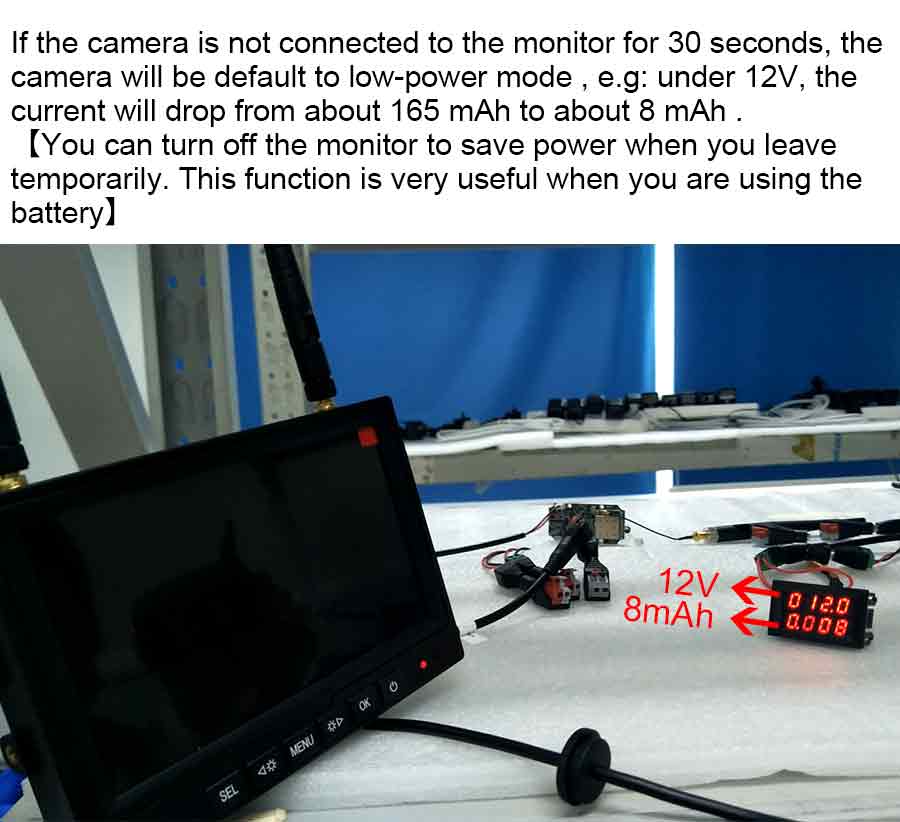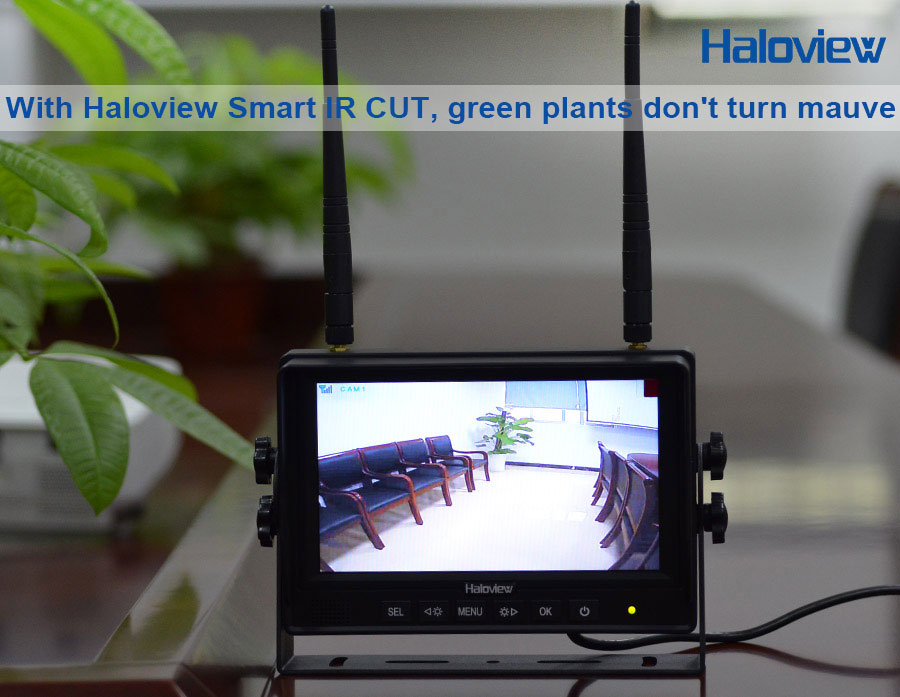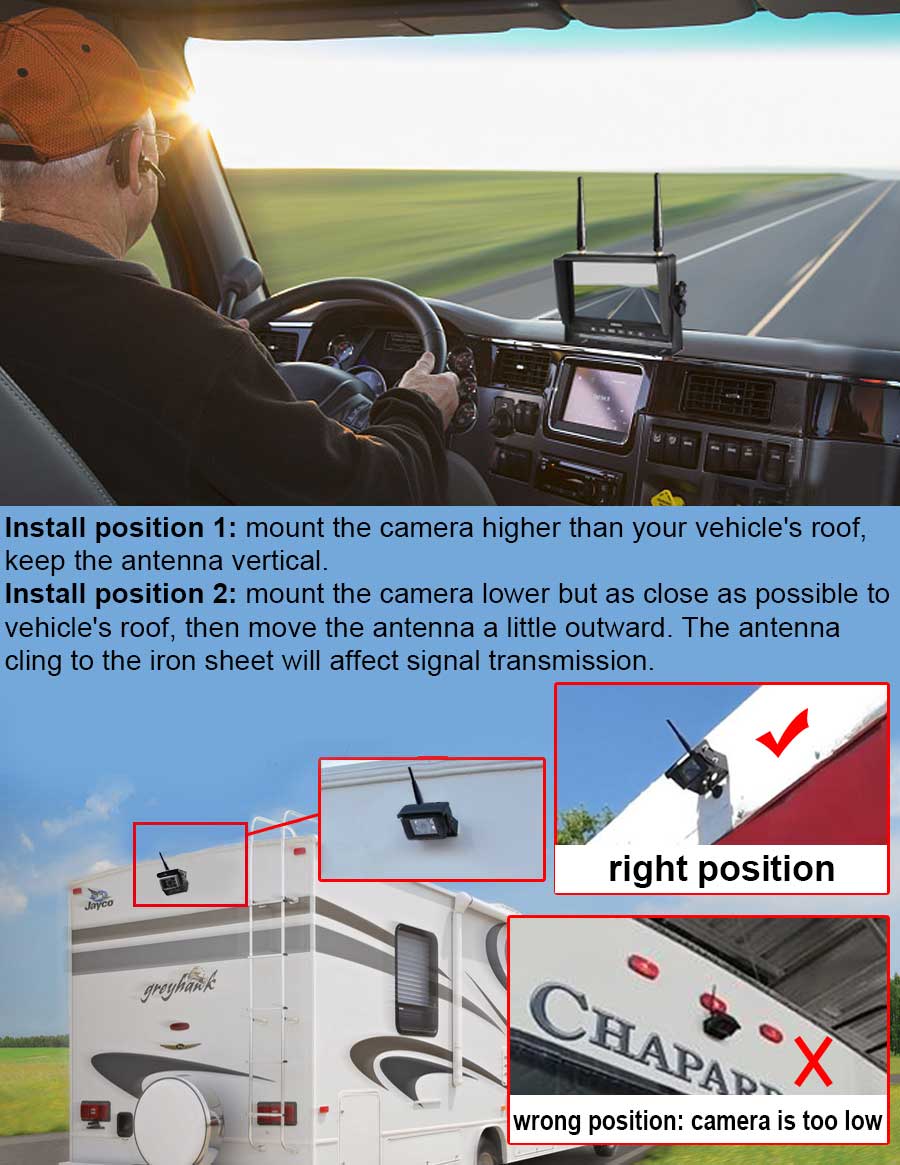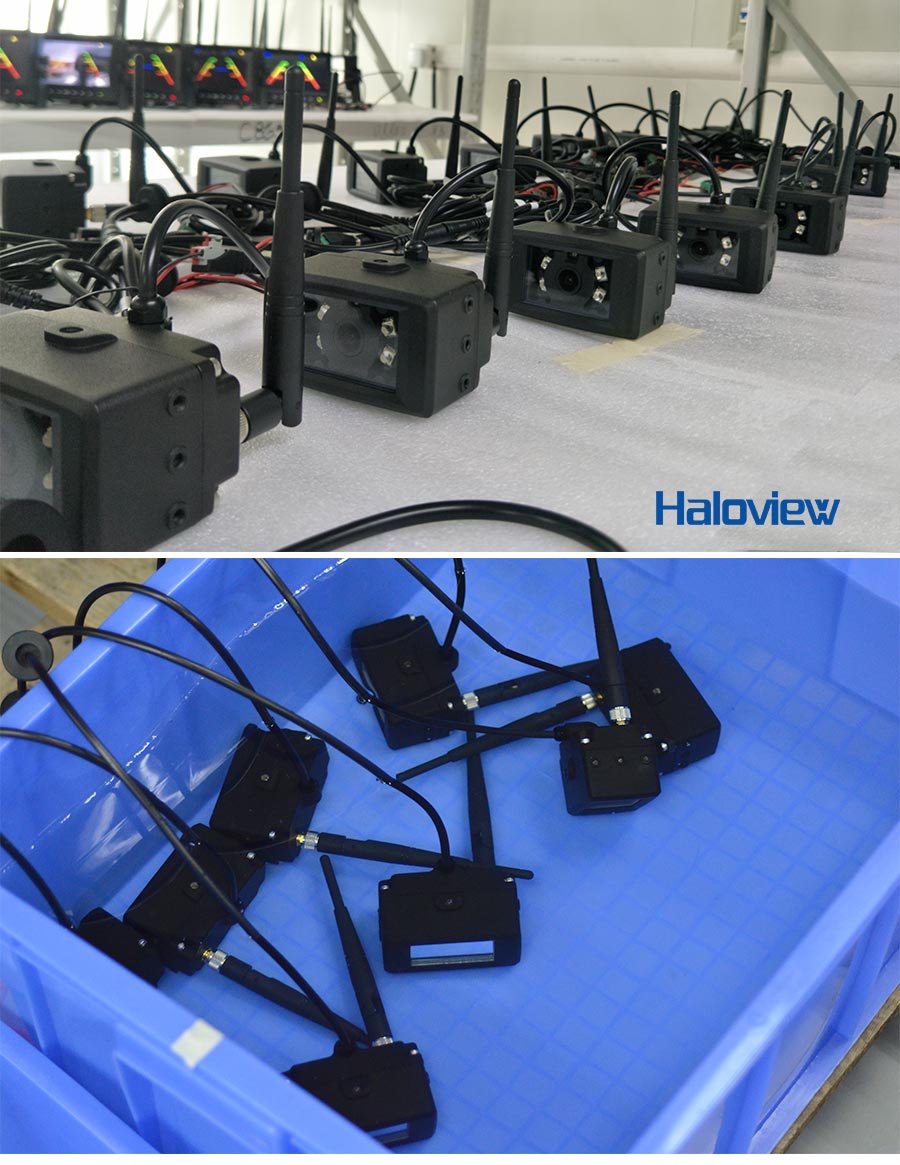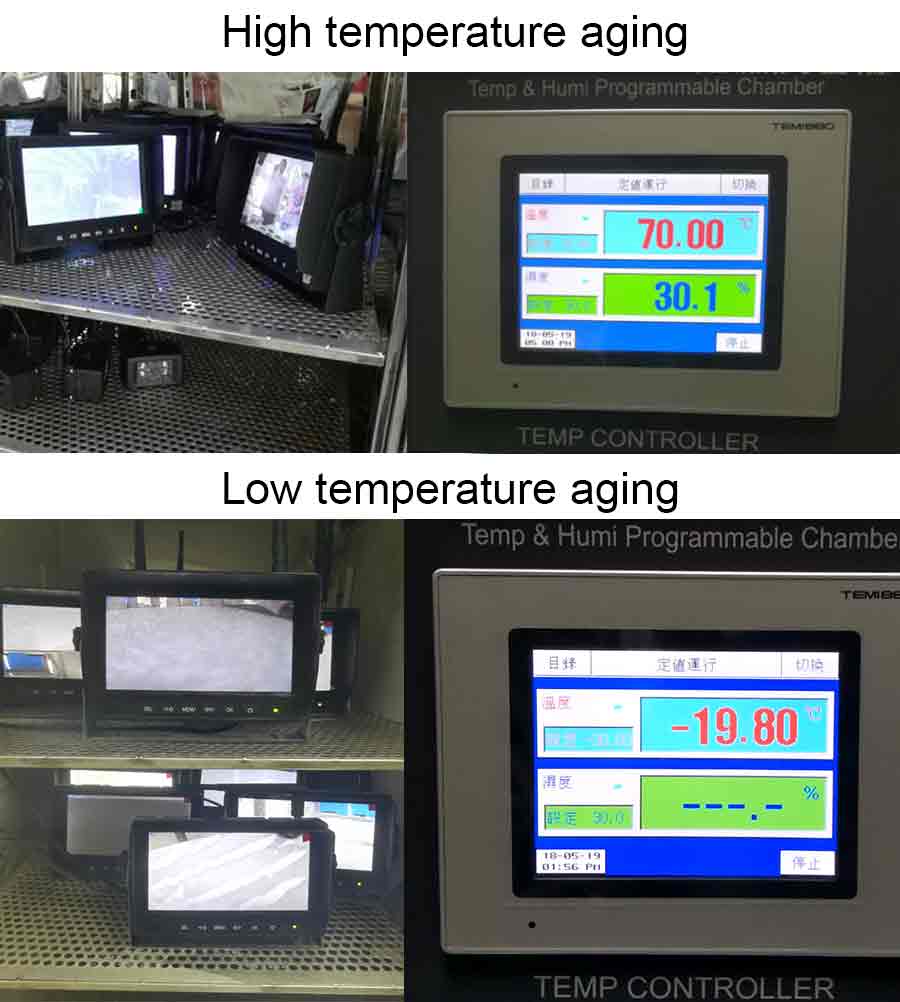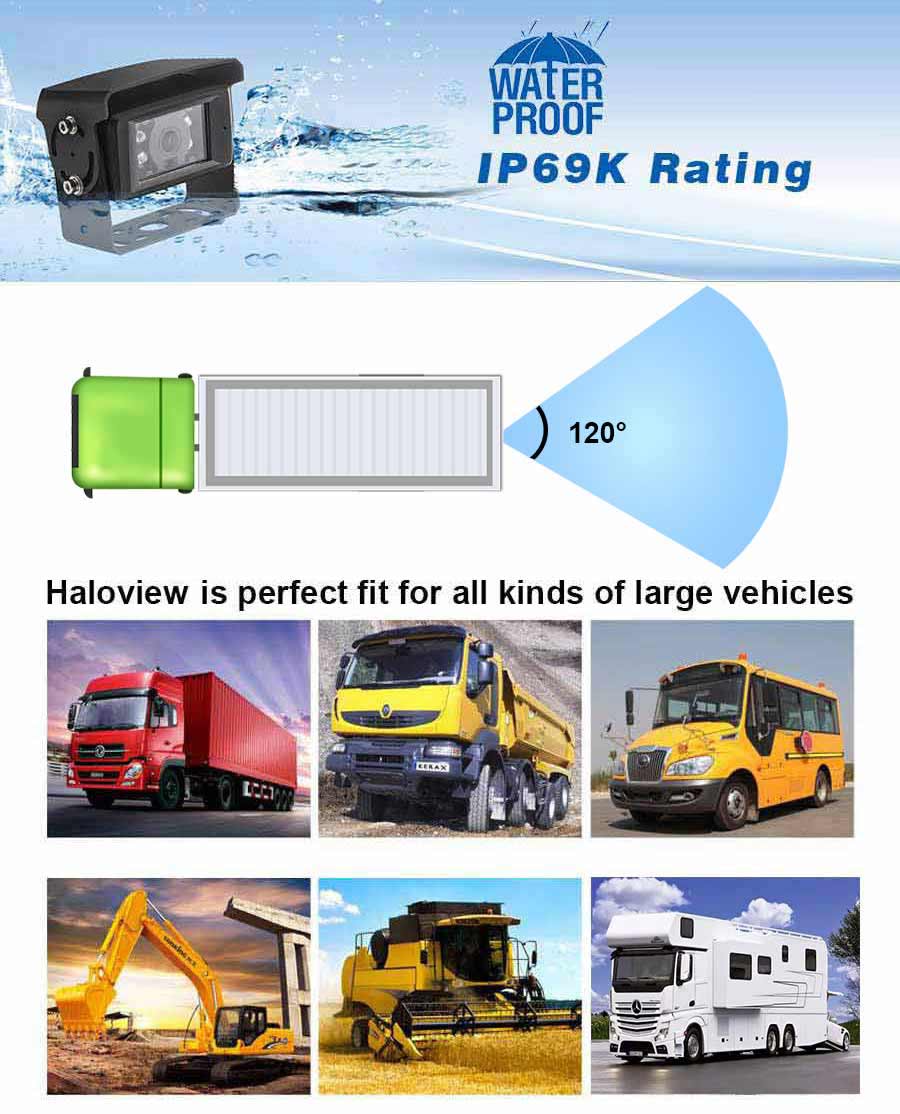 Backup Camera Monitor
Haloview MC7101 wireless backup system with 7-inch Digital LCD Monitor focuses on vehicle safety. It is easy to install. It comes with a 16:9 LCD display and look comfortable, a pixel resolution of 800 X 480 which has high quality images. It is also built-in 2.4Ghz wireless video receiver and NTSC/PAL format is available. This system with built-in DVR,it is very useful while you need to record anyting, and it supports 4-channel composite and single-channel recording in AVI signal format. All the footage records onto a Micro-SD card or TF card with max 128G storage, and it loops over oldest recordings when the card gets full.
With 400 cd/m²brightness and max 4 wireless camera inputs, this system could be applied to a variety of vehicles that needs viewing assistance for drive. Suck as Truck,RV,trailer,harvester, crane,cargo van, intercity bus, box truck,forklift, motor coach,fifth wheel,travel trailer,horse trailer,garbage truck,ambulance,consruction equipment etc. The buttons of the monitor are humanized design - easy to operate, you would focus on driving and parking and not fumble with the small buttons. The Back-it buttons illuminate in the dark make it more convenient to operate.
MC7101 is a top rated product designed for all applications including both commercial and industrial vehicles. Haloview MC7101 also provide strong anti-interference and stable connection, with the receiving sensitivity of -89 dBm in the monitor, the transmission distance can be up to 120 meters free of barrier. Its delay is 120 ms which it's almost no delay of response, it is very important when you are backing up.
Frequency-Hopping Spread Spectrum (FHSS) is adopted in this system to gain strong anti-interference ability and keep stable and clear images. Auto dim function is also available. The monitor automatically adjusts back-lighting in accordance with the outer brightness. MC7101 system also has Built-in mic /speaker which enables you can hear the sound near the camera.
The Monitor is built with electronic cursor. The distance grid lines helps the driver to reverse the car more accurately. It can be switched on or off. The 7-inch wireless system is user oriented design and the power supply is wide from DC12--32V, it is perfect for all kinds of heavy-duty vehicles. This system comes with a full year warranty. Haloview makes your driving safer and easily.
Digital wireless backup camera
The Haloview wireless backup camera has 120°wide viewing angle. It also has a great senson which provide effective pixels of 756 x 504 pixels, it is enough for recrease awareness for safe driving.
It has 4 high power IR lights 4 high power LED lights provide 32 feet of night vision for cameras. The minimum illumination for the camera is 0Lux. And power supply for the camera is ranged from DC 10-32V.
Its IP69K completely waterproof rating make it works well under damp environment. The camera has an adustable heavy duty metal sunshade, protecting camera from glare and pebbles. With a 10G vibration rating, this camera is strong, reliable and shock resistant.
Another featuring of the camera is SMART IRCUT function. The 4 high power infra-red lights combined with 850 LED lights offers better night-vision image. The infra-red sensor in the camera opens automatically at low light. Haloview MC7101 is tough enough offering you reassurance and safety.
Product Dimensions:
Camera: (with bracket) 3.46" (H) x 3.15" (L) x 1.6" (D)
Monitor: 5.12" (H) x 7" (L) x 1.06" (D)
Item weight:
Monitor M7101: 15 ounce (426g), Camera CA101:17.1 ounce (486g)
Gross weight: 69.6 ounce (1976g)
Note:
1.Before drilling the hole,it better to find a way to power the camera and test signal transmission at the approximate position to be installed.Drill the hole if the signal is good.Otherwise please do contact us immediately(with photos will be perfect),no matter where you bought it.We will reply and solve it within minutes during working time.
2.Aluminum causes interference to the wireless connectivity. If you have an aluminum trailer, it's better recommended to go with a wired system like the HALOVIEW MC7601
What's in the wireless backup camera kit
1. Haloview MC7101 2.4G Wireless Back Up Camera System with 7" Monitor X1
2. Wireless Backup Camera X1
3. U-Support Bracket X1
4. Sun Shied X1
5. Angle Adjustment Screw X4
6. Durable Suction Cup X1
7. Haloview BMW-C Cable (222cm ≈7.3 ft) with DC converter X1
8. Haloview Cigarette Lighter Power Supply Adapter 1.4 Meters(4.6 ft) Cable,Output to DC connector X1
9. User Manual X1
US customers can buy MC7101 at Amazon:
Haloivew Wireless Backup Camera system FAQ
Q: What are the differences between Haloview wired and wireless camera systems?
A:The main difference is that a wired camera system provides a slightly better image quality and a wireless system is easier to install.
Q: How long does it take to install a Haloivew Digital Wireless wireless backup camera?
A: Installation time varies based on vehicle and camera quantity but a standard one camera system should take less than one hour to install.
Q:What distance does the wireless transmission cover?
With excellent anti-interference capability, the transmision distance is 120 meters(about 393.7 ft) free of barrier, and its latency is only 120 ms.
Q: What vehicles can Haloview wireless systems be applied for?
A: Haloview wireless backup cameras could be applied for heavy-duty vehicles. It could be used for harvester, navvy, farm, forklift, crane and planter etc. For those vehicles like fifth wheels, travel trailers or semi-trucks, you can choose the wireless back up camera which is easier to install.
Q: Do your systems get interference from other wireless devices?
A: No, our systems use a fixed wireless signal (technology similar to Bluetooth) that guarantees no interference from other devices. Also, FHSS Technology guarantees the privacy and anti-interference of communication.
Q: If it's wireless, why do we have to run a wire to the camera?
A: The connection between the camera and monitor is wireless, however, each part still needs to be powered by wires.
Q: What is the power supply for a wireless backup camera?
A: The camera needs 10-32V of power, which can be supplied by the reverse lights or the running lights.
Q: I can't play the recarding of AVI
A: Change a different video player, some custumer can watch the AVI via VLC player.
Q: The rear camera connected immediately and worked well, and then after about 30 minutes it stopped working and just says "no signal". I have tried to pair it, and manually pair it by pressing button on the camera, but it will not come back on. Do you know what might cause this?
A: 1. Our display supports four cameras working at the same time. (4 cameras support 4 split display when working at the same time). The upper left corner channel displays are: CAM1, CAM2, CAM3, CAM4. The factory default is to code on the CAM1 channel. Customers can change the display channel by themselves. CAM4 comes with a reverse cursor. If you need to close the reverse cursor, you can close it in the menu.
2. If you press the SEL button, switch the channel to another channel instead of the default CAM1. For example, switch to CAM4 channel, then it needs to re-code. Please note: If the camera is not connected to the monitor for 30 seconds, the camera will default to a low-power state. 【The Low-power function is very useful, the current is only 10mA】. At this time, you press the pair key is invalid.
So, The solution is to power off the camera and then power it on. Or press the SEL button to switch to the default CAM1 channel (the premise is: it does not have code to another channel). (Solved)
Q:It started working again after I disconnected the camera power and reconnected it, the screen shows outside perfectly. But I did not hook up any of the camera wires (brown, purple, green, yellow, blue). I left them all disconnected, but the rear camera still works. I was surprised that the camera broadcasts to the screen without the wire connected!
A: 1. Brown, Purple, Green, Yellow, Blue ---- These lines are trigger lines and do not need to be connected for normal use.
2. The monitor is in the state of the code, and then the camera is powered off, and then turned on again. This is equivalent to pressing the code key once, so it can be coded. It is normal.
Q: Can you please tell us what size drill bit we need for the black grommet on the camera cable? I purchased a system and need this info.
A: There is a waterproof rubber gasket on the camera cable. You can drill holes with a diameter of 20mm.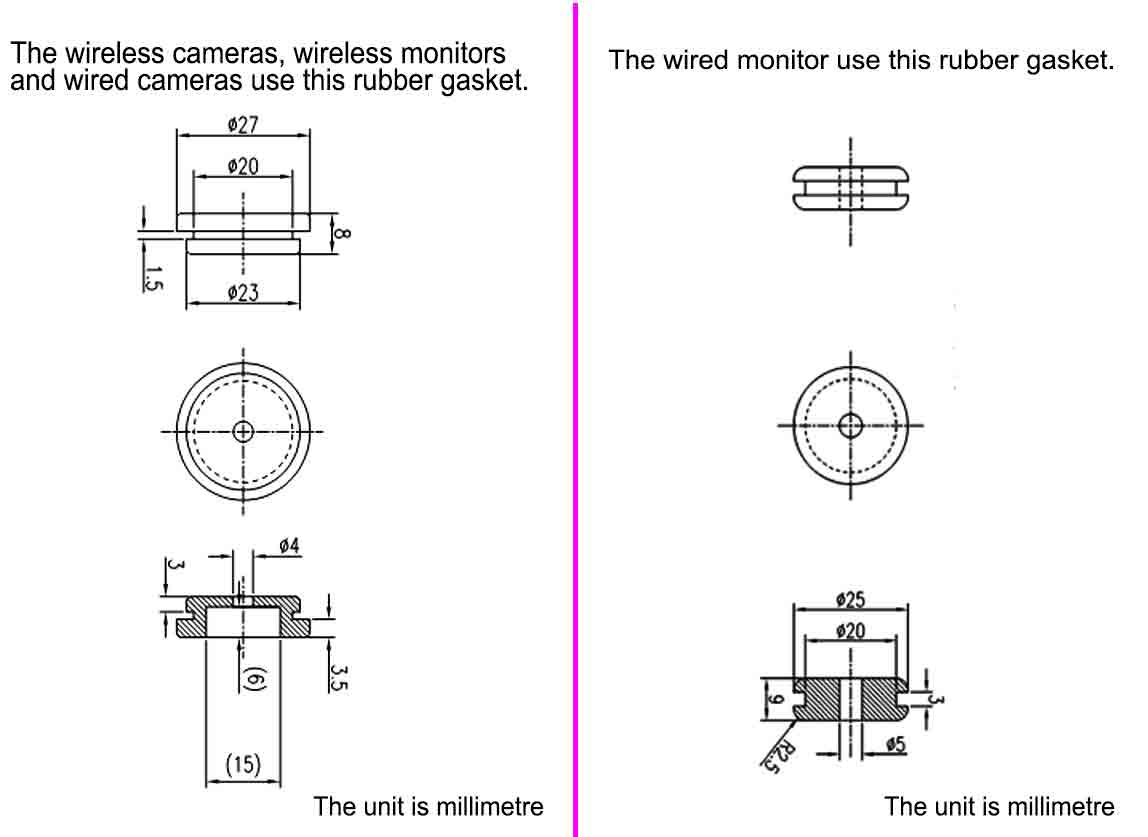 Q:How do i know it's recording video? How do i start/ force it to record?
A: 1. From the screenshot you sent, the top left corner shows the video loop.The icon in the upper right corner of the SD card indicates that the SD card has been connected, but no video has been recorded. If the video starts, you'll see the icon change. 2. On the screen of your previous screenshot, press "OK" and the recording begins, press OK again to cancel.
Q: I don't know what to choose from wired or wireless, what is your suggestion?
A:If you want to save money and have tools, try the wired. If you do not want to install, then choose wireless MC7101. Our product's quality is better than competitors, pls check the test video, but only half price of their.

Q:I need to mount the camera offset on the back of my Class B RV so it will not be centered. Can i adjust the image so that when i am backing up it appears more centered?
A:Wired Rear View System: If the camera is not centered, you need to calibrate the reverse cursor, then you can correct it in the menu bar in the monitor. Only the display position of the reversing cursor on the screen can be corrected, the image cannot be adjusted. However, the upper and lower viewing angles can be adjusted by adjusting the angle of the camera.
Wireless system: The image display cannot be adjusted left and right. The reversing cursor is also fixed and cannot be adjusted. However, the upper and lower viewing angles can be adjusted by adjusting the angle of the camera. Please try to center the camera and then install it.