Reverse driving has its challenges, and when you are stuck somewhere along a narrow path, or on a busy street, you need something to help you maneuver out of this. A rear-view, RV backup camera could be a savior, in such a situation. Most recent cars come with an RV backup camera, but some of the older models are deficient of this vital component. You can easily drive in reverse, and not back into any obstacles that could be in your blind spot, with the aid and the clarity of an RV backup camera.
Areas exist that your mirror will not be able to vividly give you an image of–low areas, for instance. In this case, an RV backup camera would be of great help. This could drastically help in the reduction of possible accidents, such as knocking down children, who could be in your driveway or at the rear end of your vehicle. It is worth noting that about 50 children, each week, get knocked down in this manner, showing that this is an issue of concern, and an RV backup camera could be the solution to this problem.
RV backup cameras have generally been shown to improve safety, not only when you are on a driveway, but also when you are driving on a highway. During the installation of an RV backup camera, two options exist. You can choose to wire it to a reversing light, and in this case, it will only be of help when you are reversing. On the other hand, you could also wire it to a constant power source. In this latter case, the RV backup camera will be of help both in the reversing mode, and when you are driving on the highway, making you be a safer driver in both situations.
Rear view cameras are basically grouped into two categories: wired RV backup cameras, and wireless RV backup cameras. Wired RV backup cameras are those in which a cable is connected, from the camera on the car's bumper to a monitor that is placed inside the cabin, and images are transmitted through this connection. For wireless RV backup cameras, a wireless transmitter and a receiver are employed. Though one can receive an image from any RV backup camera, there are marked differences, or in some cases slight differences, in the various rear-view backup cameras.
The Quality of RV Backup Cameras
The most crucial and key qualities that an RV backup camera should have are: a wide field of view, enabled night vision, and additionally (for the wireless RV backup cameras) protection from interference, which is vital.
The width of the RV backup camera viewing angle is its field of view. A wider field of view will imply that this camera will give you a better view of the area behind your car's rear bumper. It is advised that you only consider those which have more than a 90-degrees field of view.
For wireless RV backup cameras, look out for the presence (and the level of) night vision, as this will have a bearing on the quality of the images that will be produced. The presence of infrared LEDs, in any RV backup camera, will imply that it is of excellent quality, as this is a special feature for seeing even when it is dark. If you find an RV backup camera that doesn't have night vision, you will have to rely on your tail lights to see any image, and that is largely inadequate lighting for this type of product.
The wireless RV backup camera should be specifically checked, to ascertain any level of interference. Most of the wireless RV backup cameras that have been reviewed, transmit their signals at a frequency of 2.5 GHz. The most commonly used signal is the analog signal, and this is susceptible to interference, just as the digital signal is. The following can lead to interference: surrounding Wi-Fi networks, the presence of Bluetooth devices, any home security systems, cordless home phones, as well as microwaves, just to name a few. If you are using an RV backup camera using the analog signal, you are potentially getting images from other vehicles. On the other hand, RV backup cameras which use a digital signal, are less susceptible to interference.
What to Look Out for in the Design
The key thing when choosing an RV backup camera is to check on the ease of installation of this device in your rig, and that depends on its design. A wireless RV backup camera doesn't require much technical help, compared to the wired RV backup camera.
You will need professional assistance, or a person with mechanical expertise, in order for you to install a wired RV backup camera, and the costs for this are in the range of $80 to $150. For the wireless RV Backup camera, you will only need a few tools to carry out the installation process, including a power drill, a pair of pliers, and electrical tape. The wireless devices tend to be more expensive, but the total costs equal out when the extra installation costs for wired devices are factored in.
It is good to confirm the wireless range of a wireless RV backup camera. This, with an above average range, will enable these devices to be used in long trucks, and one would not need to worry about the signal fading away. Interference will also be less, in a wireless RV backup camera with a strong wireless range.
The last item to check on, in the design of an RV backup camera, is its weatherproof quality. Cameras with a rating of IPx7 are waterproof, and they can withstand immersion in one meter of water for thirty minutes. The water resistance level rated IPx6, means that an RV backup camera is able to tolerate powerful jets of water, directed from any direction. An RV backup camera is considered to be freeze proof, if it can withstand temperatures which are below 15 degrees
On the Quality of the Monitor
The most important function of the monitor is to enable you to have a clear view of your rear bumper. But at times, you may want a monitor that can be used for entertainment purposes, while you drive. You will find that RV backup cameras that relay information from a monitor, can also be used with an audio or video device, a DVD player, and occasionally even video games.
If you desire a monitor that is meant to be used for entertainment purposes, you need to ensure that the screen size is the right one for this purpose. A 5-inch monitor, or any figure above this, will serve you in a best. You may also want to check on the resolution of the monitor, and it is recommended that the horizontal pixels should be above 400.
Make sure to check the level of support offered by the manufacturers of a given RV backup camera. A helpful and responsive manufacturer will give you the confidence, and the trust, needed for using a certain RV backup camera. It is recommended that you pick an RV backup camera that has a warranty of at least 1-year.
Haloview MC7101 7" digital wireless backup camera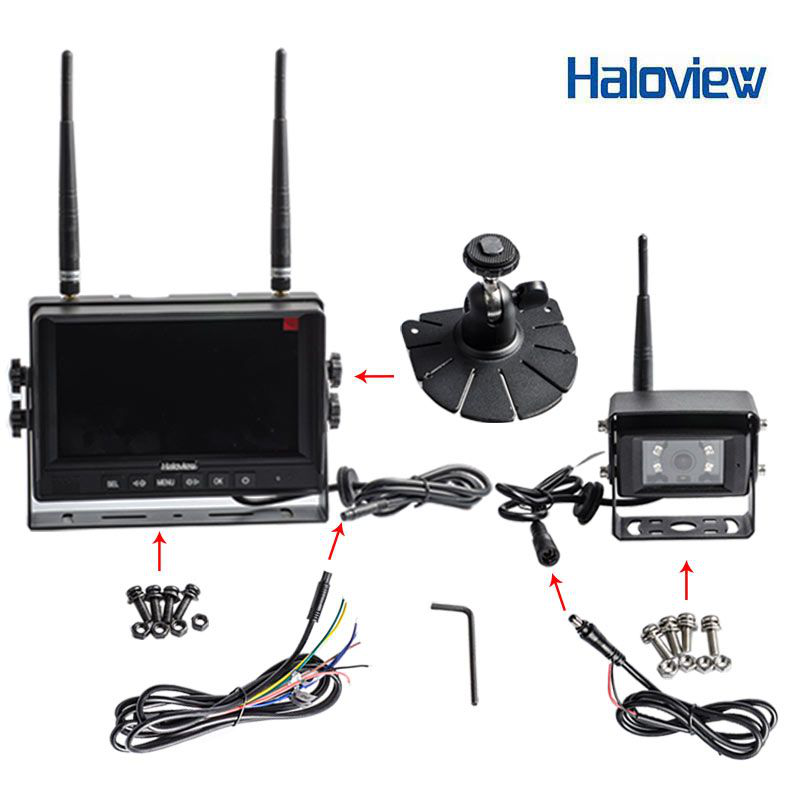 The Haloview wireless backup camera has 120°wide viewing angle. It also has a great senson which provide effective pixels of 756 x 504 pixels, it is enough for recrease awareness for safe driving. 
It has 4 high power IR lights 4 high power LED lights provide 32 feet of night vision for cameras. The minimum illumination for the camera is 0Lux. And power supply for the camera is ranged from DC 10-32V.  
Its IP69K completely waterproof rating make it works well under damp environment. The camera has an adustable heavy duty metal sunshade, protecting camera from glare and pebbles. With a 10G vibration rating, this camera is strong, reliable and shock resistant.   
Another featuring of the camera is SMART IRCUT function. The 4 high power infra-red lights combined with 850 LED lights offers better night-vision image. The infra-red sensor in the camera opens automatically at low light. Haloview MC7101 is tough enough offering you reassurance and safety.
Every vehicle is expected to have a rear view camera by the year 2018, and most rigs lack this vital component needed for safer driving. Turn reversing into a less stressful activity, by making use of the RV backup camera, in order to avoid unnecessary accidents.