Haloview Wireless Rear View Camera CA101
Special Price
$65.70
Regular Price
$73.00
1. Built-in SMART IR-CUT filter makes image more realistic and avoid color blur.
2. Transmission range is up to 120m line of sight.
3. 4 IR LEDs provide 32ft of night vision for camera
4. 120° wide viewing angle
5. IP69K waterproof rating (highest IP rating) and 10G vibration rating.
6. Instant auto pairing: Easy pairing for camera and monitor.
7. Latency of 120ms, which is imperceptible.
8. Built-in Mic enables you to hear the sound near the camera.
9. Low-power-consuming function. If wireless camera is not connected to monitor for over 30 seconds, the camera will enter low-power mode, this function can save power by turn off the monitor when you are using battery.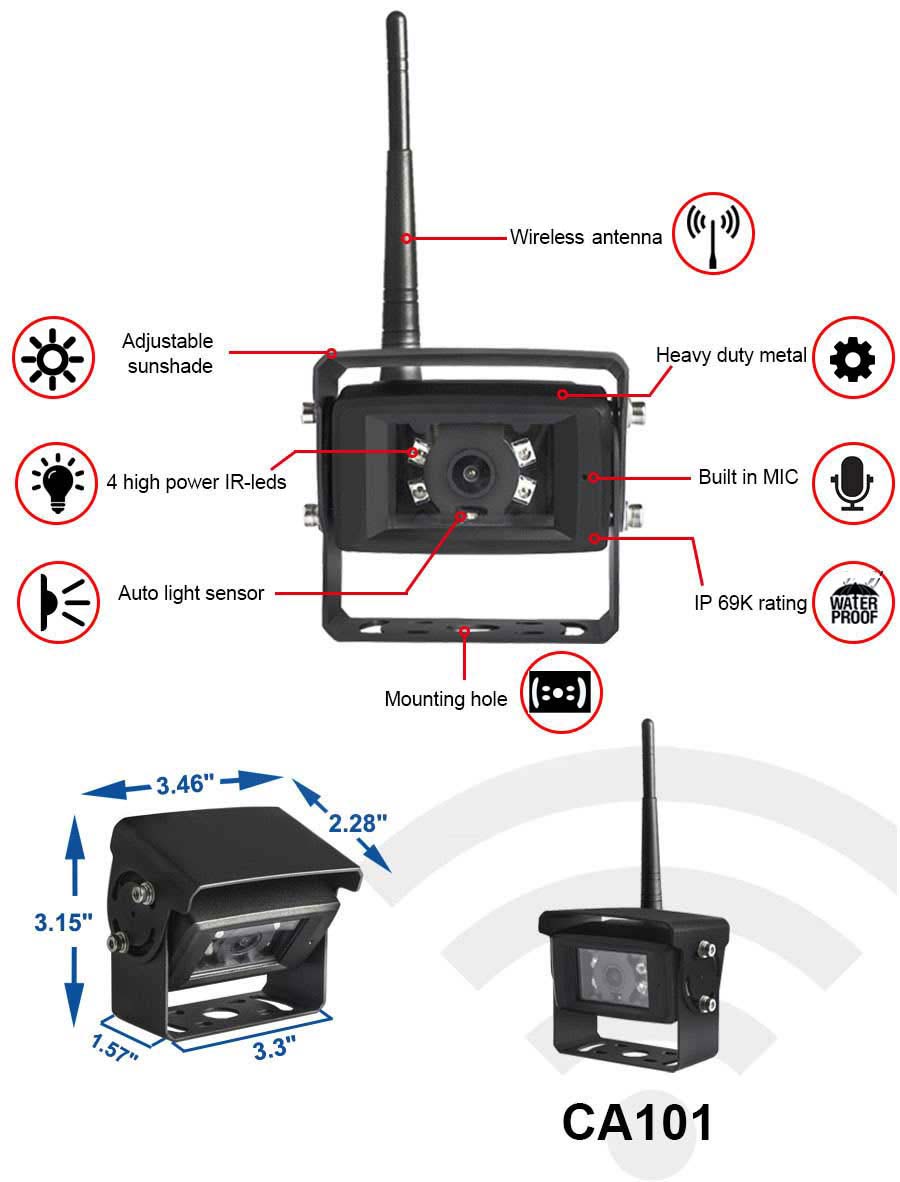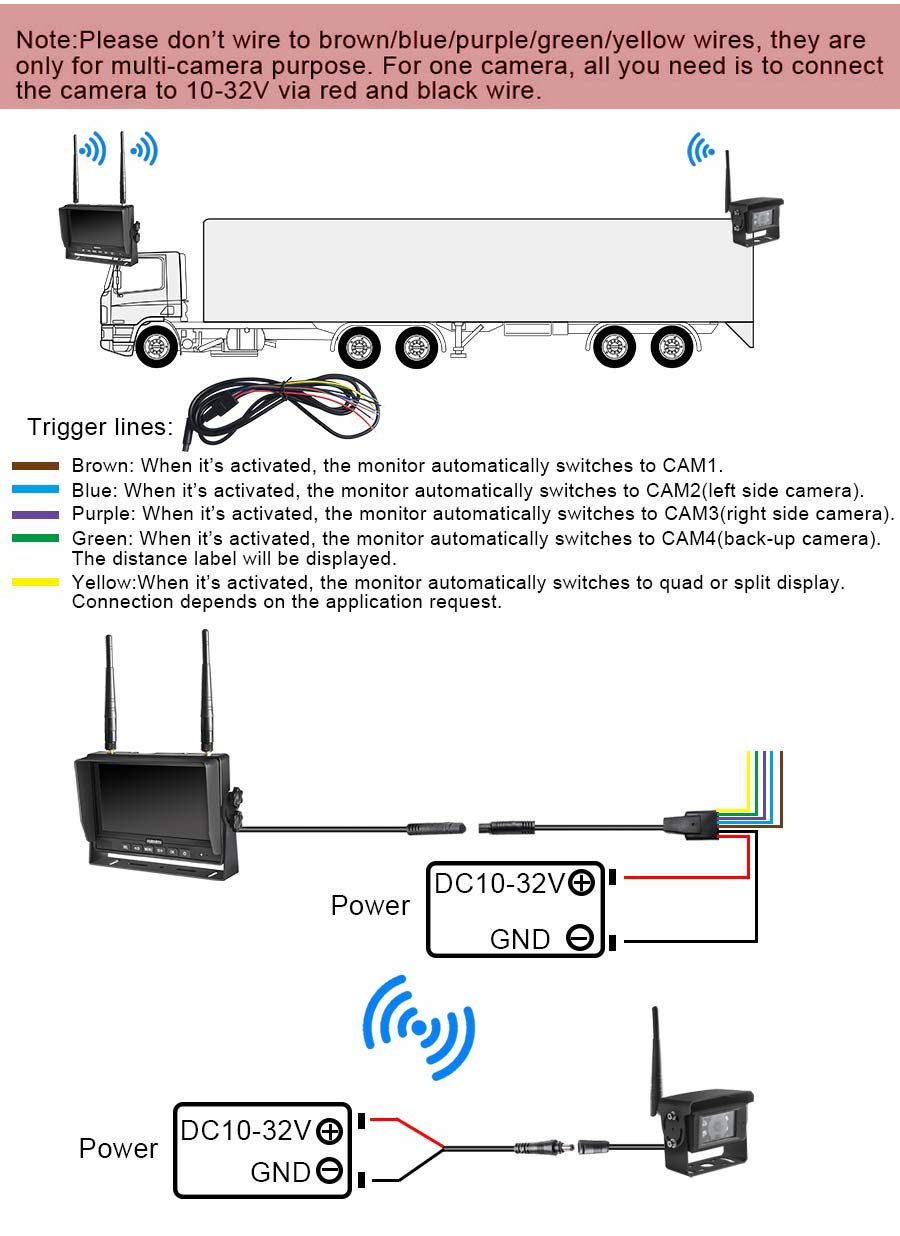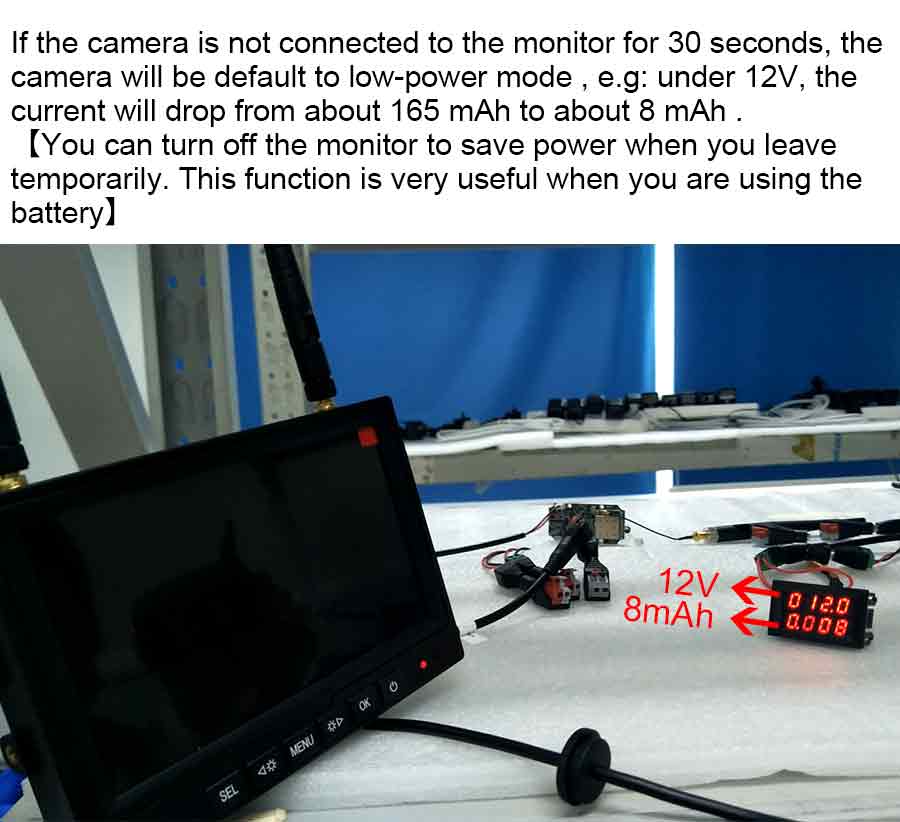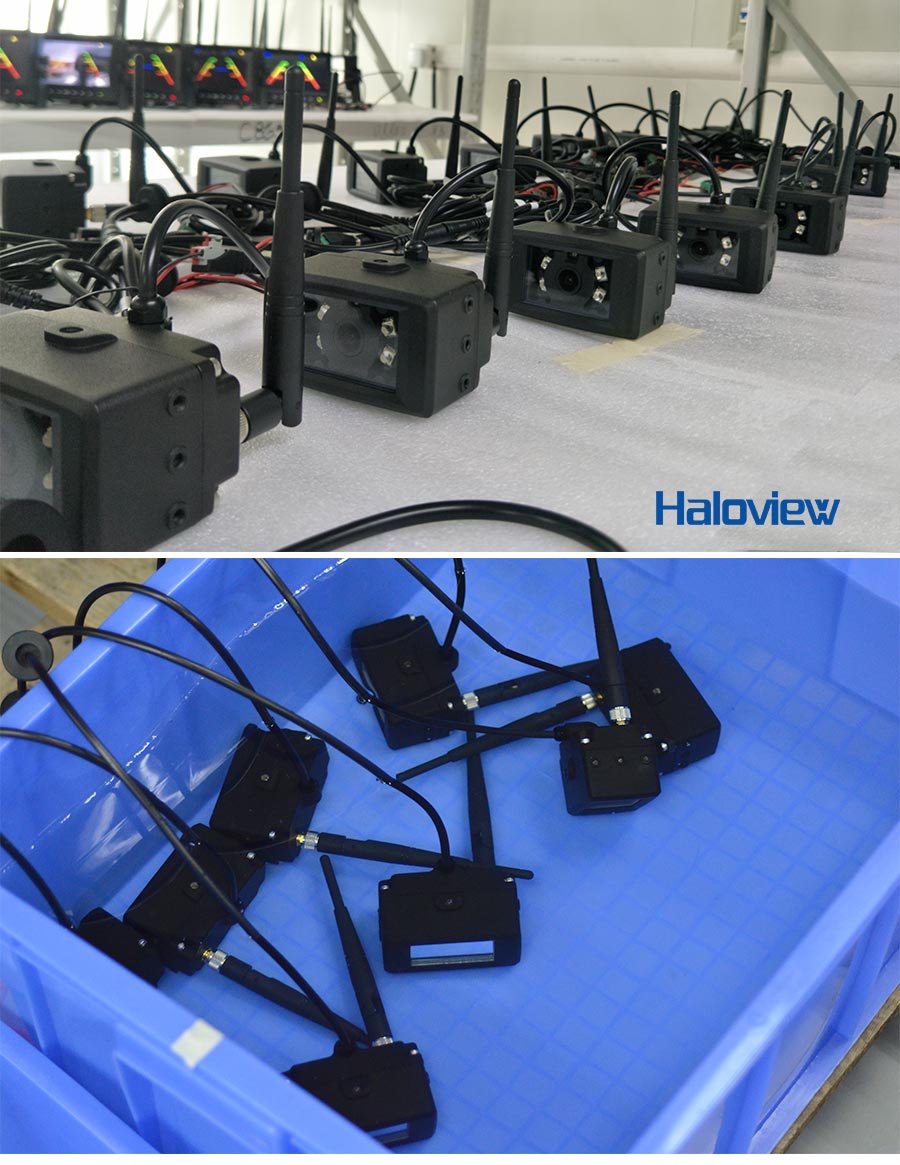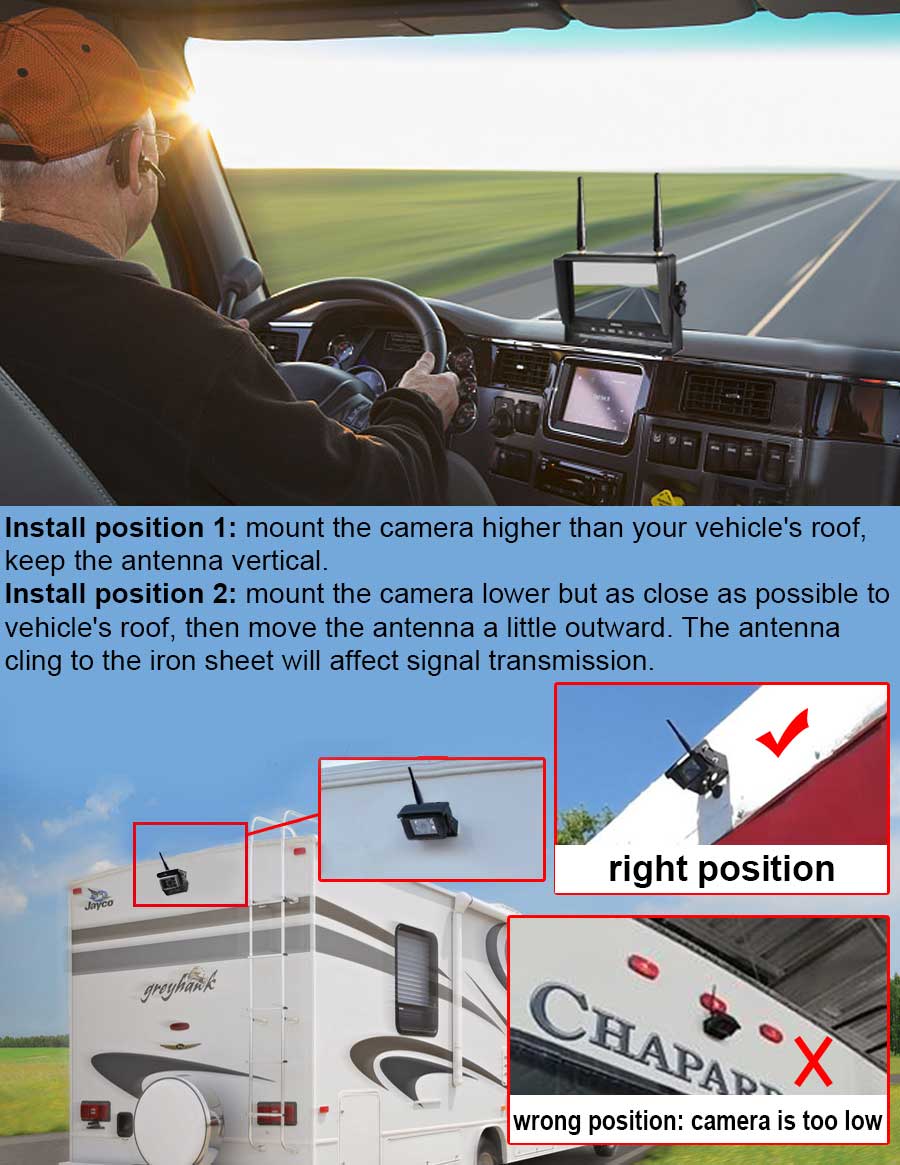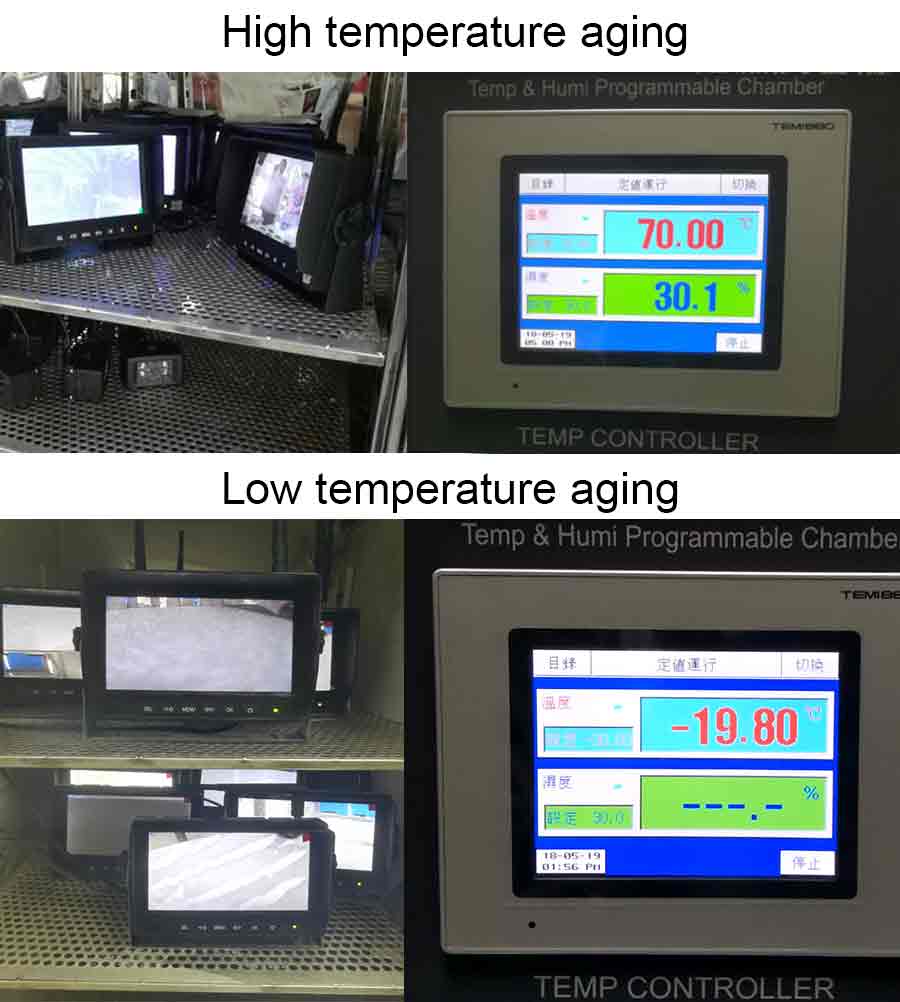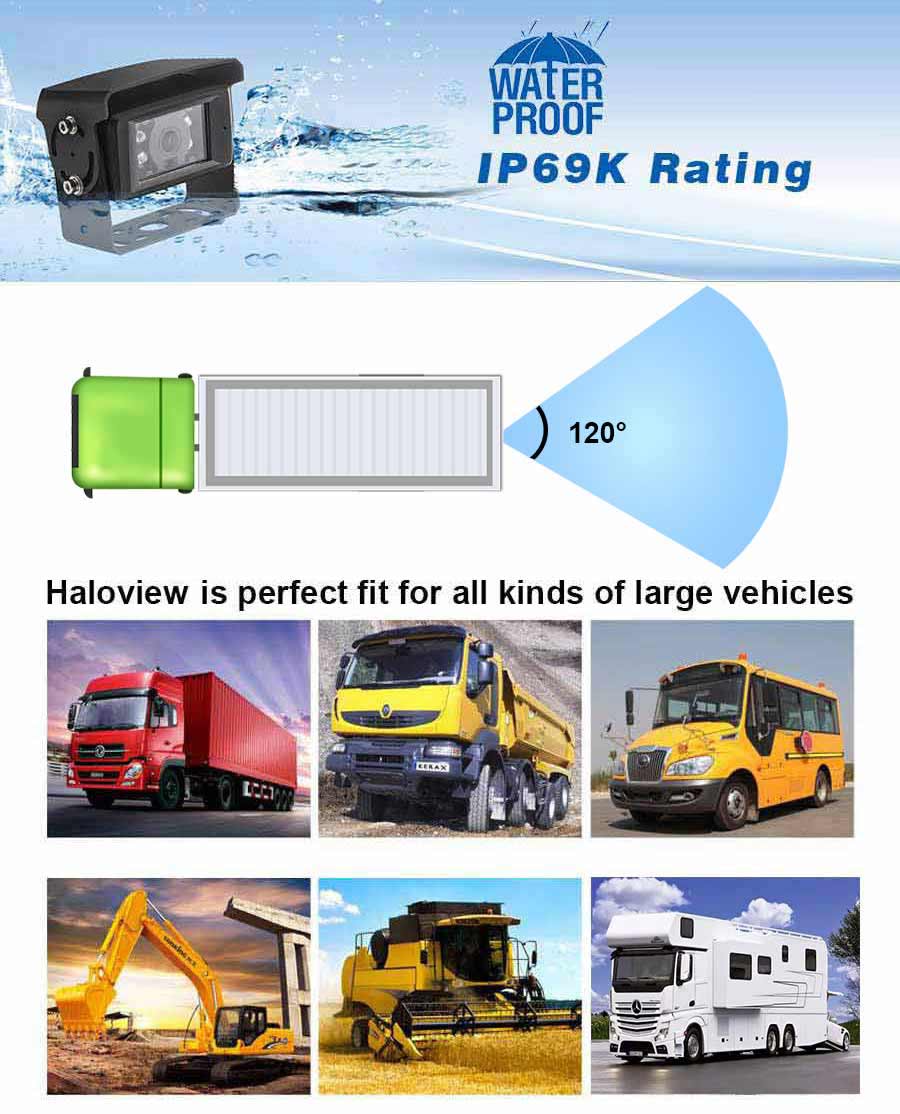 Digital wireless backup camera
It produces 120° wide viewing angle, with 756*504 pixels and greater viewing flexibility when compared to conventional wide-angle lenses. It has 4 high power IR lights providing 32 feet of night vision. The minimum illumination for the camera is 0 Lux with power supply ranging from DC 10-32V.
Its IP69K complete waterproof rating make it works well under damp environment. The camera has an adjustable heavy metal sunshade, which can protect the camera from glaring and flaring. With a 10G vibration rating, this camera is strong, reliable and shock-resistant.
The 4 high power infra-red lights can offer better night-vision images. The infra-red sensor will open automatically at low light.
Featured Function:
Use 650nm filter at daytime, it will automatically switch to 850nm at night. It can avoid color blur.
Low-power -consuming function:
If wireless camera is not connected to monitor for over 30 seconds, the camera will enter low-power mode, this function can save power by turn off the monitor when you are using battery.
How do you know whether it's at low power mode? Cover the sensor with your hand, if the infrared light is on, then it's not at low power mode.
Product Dimensions:
Camera: (with bracket) 3.46" (H) x 3.15" (L) x 1.6" (D)
Item weight:
Camera CA101: 17.1 ounce (486g)
Note:
1. Please power on the camera at the intended position to test the signal strength before drilling. Do not drill until the signal reaches 4 grids.
2. Install the camera higher than your vehicle's roof or close to the roof and move the camera's antenna a little outward, the antenna cling to metal will affect the signal. If you having trouble with signal reception, please do contact us immediately(with photos will be perfect),no matter where you bought it.We will reply within minutes during working time.
3.Haloview's rear view system use anti-glare screen, please tear off the monitor's screen protection film which may cause reflection after installation.
What's in the box of this Wireless RV Backup Camera
1. Haloview wireless backup camera CA101 X1
2. Wireless Antenna X1
3. Camera Power Cable X1
4. Camera Specification X1
5. Screw Kit for Camera Installation X4
US customers can buy CA101 at Amazon:
Model: CA101

Power Supply

DC10~32V

Night Vision Distance

8~10m

Waterproof Rating

IP69K

Viewing Angle

120°

Audio

Yes

SMART IR-CUT

Yes

Image Device

1/3" CMOS

TV System

PAL, NTSC

Horizontal Sync Frequency

15.625kHz, 15.734kHz

Vertical Sync Frequency

50 Hz, 60Hz

Frame Rate

25 f/s, 30 f/s

Effective Pixels

756×504 pixels

Sensing Area

4.80mm×3.73mm

Video Output

1.0Vp-p, 75 Ohm

Scanning System

2:1 Interlace

Sync. System

Internal

Gamma Consumption

0.45

AGC

Auto

White Balance

Auto

BLC

Auto

S/N Ratio

Better than 46.5dB

Electronic Shutter(PAL)

1/50~1/100,000 Seconds

Electronic Shutter(NTSC)

1/60~1/100,000 Seconds

Operation Frequency

2400-2483.5MHz

Transmision Distance(barrier free)

120m (393ft)

Transmission Power

18dBm

Video Codec

MPEG4

Spread SPECTRUM

FHSS

Latency

120ms

RF Bit Rate

4Mbps

Minimum Illumination

0Lux

Operating Temperature

–20℃ ~ 70℃, RH95% MAX

Storage Temperature

–30℃ ~ 80℃, RH95% MAX
Q: What are the differences between Haloview wired and wireless camera systems?
A: 1. Wired system has stable image than wireless system but the installation is a bit troublesome, wireless system is more easy to install.
2. The wireless system is recording available, but the wired system has no recording function.
3. The wireless system support split mode and 4 cameras are available, the wired system don't support split mode and 3 cameras are available.
4. The wireless system support low power consumption function, but the wired system don't support low power consumption function.
5. The monitor and camera of the wireless system are powered separately, but the camera of the wired system is powered by the monitor, the camera will not work as long as the monitor is turned off.
The common feature: Both have smart IR cut function(more clear and stable image in the daytime, anti-vibration)
Q: Monitor says no signal
A: If the camera is not paired with monitor for 30 seconds, it will enter low power state, you need to re-disconnect camera power, and then re-power the camera before pairing.
Q:Misunderstading about trigger wire function
A: Brown, Purple, Green, Yellow, Blue ---- These lines are trigger lines and do not need to be connected for normal use.
If select buttons fail to work, please eliminate the possibility of misconnection of trigger lines
Q: How long does it take to install a Haloivew rear view camera system?
A: Installation time varies based on vehicle and camera quantity.
a standard one camera wireless system should take half hour to install. with 4 cameras takes about 1 hour.Wired system with 1 camera takes about 40 minutes, 3 cameras takes about 2 hours.
Q:What distance does the wireless transmission cover?
With excellent anti-interference capability, the transmision distance is 120 meters(about 393.7 ft) free of barrier, and its latency is only 120 ms.
Q: What vehicles can Haloview wireless systems be applied for?
A: Haloview wireless backup cameras could be applied for heavy-duty vehicles. It could be used for harvester, navvy, farm, forklift, crane and planter etc. For those vehicles like fifth wheels, travel trailers or semi-trucks, you can choose the wireless back up camera which is easier to install.
Q: Do your systems get interference from other wireless devices?
A: No, our systems use a fixed wireless signal (technology similar to Bluetooth) that guarantees no interference from other devices. Also, FHSS Technology guarantees the privacy and anti-interference of communication.
Q: If it's wireless, why do we have to run a wire to the camera?
A: The connection between the camera and monitor is wireless, however, each part still needs to be powered by wires.
Q: What is the power supply for a wireless backup camera?
A: The camera needs 10-32V of power, which can be supplied by the reverse lights or the running lights.
Q: I can't play the recarding of AVI? I can't play it in my iPad.
A: Install a different video player support avi, like VLC player,Baofeng, PlayerXreme etc. Apple's system doesn't work due to copyright issues.
Q: Can you please tell us what size drill bit we need for the black grommet on the camera cable? I purchased a system and need this info.
A: There is a waterproof rubber gasket on the camera cable. You can drill holes with a diameter of 20mm.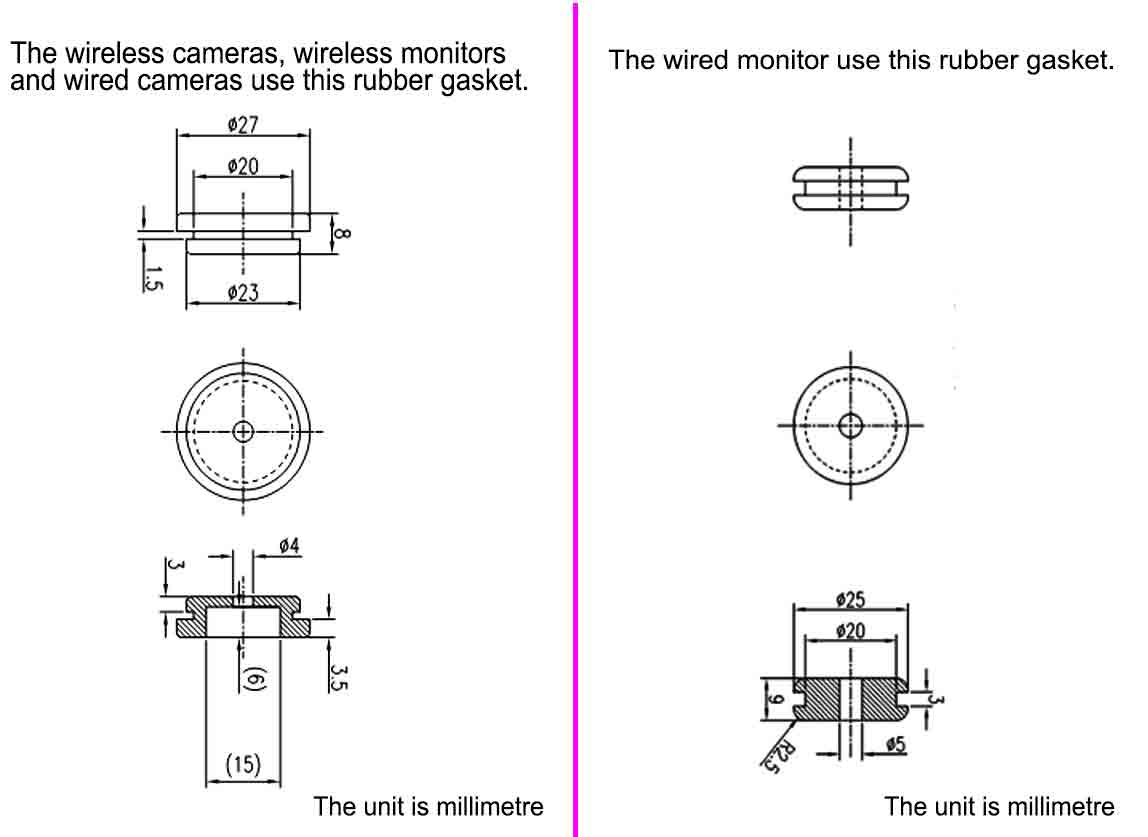 Q:How do i know it's recording video? How do i start/ force it to record?
A: 1. From the screenshot you sent, the top left corner shows the video loop.The icon in the upper right corner of the SD card indicates that the SD card has been connected, but no video has been recorded. If the video starts, you'll see the icon change.
2. On the screen of your previous screenshot, press "OK" and the recording begins, press OK again to cancel.
Q: I don't know what to choose from wired or wireless, what is your suggestion?
A:If you want to save money and have install tools, try the wired. If you want easier installation, choose wireless MC7101.Our product's quality is better than competitors,but only half price of their.

Q:I need to mount the camera offset on the back of my Class B RV so it will not be centered. Can i adjust the image so that when i am backing up it appears more centered?
A:Wired Rear View System: If the camera is not centered, you need to calibrate the reverse cursor, then you can correct it in the menu bar in the monitor. Only the display position of the reversing cursor on the screen can be corrected, the image cannot be adjusted. However, the upper and lower viewing angles can be adjusted by adjusting the angle of the camera.
Wireless system: The image display cannot be adjusted left and right. The reversing cursor is also fixed and cannot be adjusted. However, the upper and lower viewing angles can be adjusted by adjusting the angle of the camera. Please try to center the camera and then install it.
Shipping
Countries

Shipping Company

Estimated Delivery Time

Tracking Information

United States, Russia,
New Zealand, Spain,
Ukraine, Japan,
Kazakhstan, Thailand


ePacket

10-15 Business days

Available

Other Countries

China Post

20-30 Business days

Available
| | | | |
| --- | --- | --- | --- |
| Shipping Methods | Shipping Company | Estimated Delivery Time | Tracking Information |
| Express Delivery | TNT, DHL, Fedex, EMS | 5-8 Business days | Available |
---
Note:
Orders over than 90 USD will be shipped by fast shipping method.

Orders less than 90 USD will be shipped by standard shipping method.

Customs duties: You may have to pay customs duties to receive your order, we can not guarantee or predict the value of it. Orders shipped with an express mail service have a higher probability of being taxed.
---
Processing Time:
All orders will be shipped within 2 business days,from Shenzhen city in China where Haloview's factory located, in most cases we will arrange shipment at the time of we receive your order.
---
Order Cancel:
You can cancel the order before we ship your items. The order can then be cancelled for a full refund or placed on hold.
If an item is out of stock the site will state out of stock. You can fill out your email for notification when the item backs to store.