Driving your RV in reverse is an issue for many people. In fact, it is not something that you cannot do easily without the best RV backup camera. Your maneuvering skills would be underemphasized if you are stuck on a hectic street or a narrow corner. On the other hand, a rear view camera can guarantee that you and your RV can get out of this situation smoothly and safely.
Some newer models of RV that are sold today have this feature. But if you got an old RV, there is a good chance that backup cameras are not present in the unit. Of course, there is a need for you to install this component. Just like I said earlier, you can easily swerve any road obstacles that are within the blind spot with the use of the RV rear-view cameras.
Aside from that, you cannot expect that the front-view mirror of your car can provide you the entire vision of your vicinity. The risk of bumping people, especially children, is high if you do not install a backup camera in your RV. This vehicular accident is actually prevalent in the United States. And although none of these cases are fatal, it is still not something that you can shrug off.
So what are your best choices for an RV backup camera? Well, take a look at my recommendations below and see which one can suit your setup.
Guidelines In Choosing An RV Backup Camera
In the market today, all backup cameras (including those that are for RVs) are classified to two categories: wired and wireless. Without needing a technical explanation, it is obvious that wireless RV backup cameras are using cables for connection. The camera installed on the bumper is wired to the monitor inside the driving cabin. On the other hand, wireless RV backup cameras, wireless transmitters and receivers are being utilized to secure a connection.
Regardless of your preferences, both wired and wireless cameras are found effective in transmitting images and display. It is up to you to decide which of them to get.
Specs Of A RV Backup Camera
There are a lot of things that are probably running in your mind whenever you are looking for backup cameras for your RV. Honestly, there are only few factors that you should consider here. The first one is the field of view.
Specifically, the wider the field of view of a camera is, the lesser the blind spots. A camera is a waste if it cannot offer you a wide vision on the area in front of the rear bumper of your vehicle. If I were you, I would not get a backup camera that does not have a field of view that exceeds 90 degrees.
Another thing that you should consider is the quality of images. The display should be bright and full of colors. The image should be sharp and detailed, too. You cannot see tiny obstacles if the camera cannot capture vivid images. For wireless backup cameras, infrared LEDs can ensure the quality of display. LED lights are also necessary feature for the camera to function during the night or dim environments. Take note that tailgate will never be sufficient in lighting the camera.
If you are planning to get a wireless backup camera, always be keen about the interferences. This factor is a crucial issue to the overall functionality of the camera. You see, if there's an interference, the transmission of images will be interrupted. Of course, interfering signals are always there. Your smartphone, WiFi devices, and other digital devices can disrupt the transmission signal of the receiver and transmitter of the camera.
Most of the backup cameras for RVs today have a transmission frequency of 2.5 GHz. This is just okay. The thing that you should be wary about is the type of signal of being utilized. Don't pick backup cameras that are using analog signals because they are susceptible to interferences. Go for digital signals, instead. They work well in isolation.
Installation
Another thing that you should look for a backup camera is its mounting or installation setup. Now, most of the backup cameras out there can be installed differently, depending on their design. For now, I can say that installing a wireless backup camera is a lot easier compared a wired backup camera. There's a lot of technical aspect involved on installing a wired backup camera in your rig. And if you are not too adept with these things, you might need to seek the help of experts.
The price of the installation prices ranges from $70 to $150, depending on the complexity of the design. But of course, there are a lot of tutorials on the internet that you can follow so that you can do the installation of backup camera by yourself. You just have to be careful to ensure that you can make a seamless and not-so-shabby connection.
Best RV Backup Camera On The 2021 Market
1. RD10 Wireless Rear View Mirror Backup Camera
The elegant in-mirror option with dashcam and backup camera.
Video resolution: 1920 x 3(RGB) x 320
Camera Viewing angle: 140 degrees (front), 130 degrees (rear)
Screen: 10" IPS Touchscreen
Connectivity: Wireless
Night vision: Yes
Video quality: 1080P Full HD (front), 720P HD (rear)
Price: US $369.99

Pros
Blends into car design
Stable signal at high speeds
Both front and rear view can recording
Cons
Only display up to 2 cameras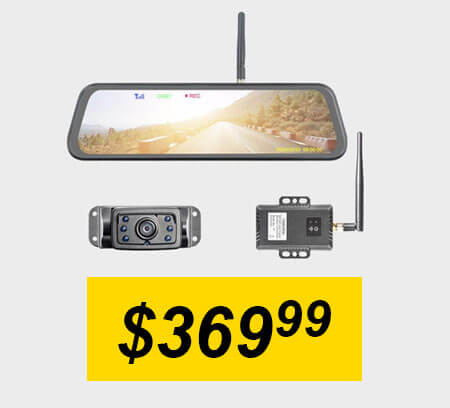 This wireless RV backup camera/mirror dashcam RD10 is a high-quality, easy to install camera product that could easily pass as a factory installed option on your vehicle. The rear mirror display built with a front-facing dash camand the whole mirror replacement is a touchscreen which lets you see split-screen dual view or single front/rear view. The RD10 mirror monitor also records audio clearly and can save your video files for playback at a later time with an SD card.
The front camera, which acts as a dash cam, can be tweaked to your preferred angle, and its Sony Lens delivers good 1080P HD resolution and detail. The rear camera is a 720P wireless backup camera comes with a TX-BOX, which ensures a constant signal reception. The camera itself includes 6 LED lights that automatically come on to illuminate the path behind you at night. It's also waterproof and will work in the rain.
2. RD7 Ultimate Wireless RV 4-Camera System
Range Dominator series is primarily designed for vehicles length up to 80ft, such as RV, Fifth Wheel, Travel Trailer, Motorhome and Camper, etc.
Video resolution: 1024 x 3(RGB) x 600
Camera viewing angle: 140 degrees (front), 130 degrees (rear)
Screen: 7" IPS monitor
Connectivity: Wireless
Night vision: Yes
Video quality: 720P HD
Price: US $678.99

Pros
Works with RVs around 33-80ft
Stable signal at high speeds
Display up to 4 cameras
Seamless Recording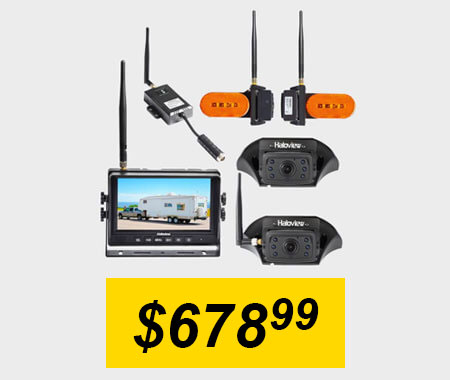 The backup camera RD7 Ultimate is perfect for those who already own an Furrion pre-wired RV. The rear camera works using a wireless transmitter that is powered by your vehicle's 12v outlet. It transmits smooth video even driving with high speeds and is rugged enough to withstand harsh weather. The camera displays a sharp image in the daytime works well in low light as well. The side maker light cameras are attached to the clearance/marker lights making them easy to install on your RV, commercial truck and trailer.
The monitor can be powered by a cigarette lighter or a hardwired power cable (trigger wires), and both of those are included. This camera system can also be on at all times, which is nice for when you want to change lanes. Installation is not too difficult and it comes with instructions to follow, as well as everything you will need to actually install it. All cameras have a 130-degree viewing angle, so it definitely helps to eliminate blind spots and help for safer driving. This is definitely our recommended camera for those who already own a Furrion mount pre-installed RV.
3. MC7616 Wired Rear View Mirror Backup Camera
Haloview MC7616 RV wired backup camera system is designed for travel trailer or 5th wheel.
Camera Resolution: 1920 x 1080
Viewing angle: 130 degrees
Screen: 7" IPS monitor
Connectivity: Wired
Night vision: Yes
Video quality: 1080P FHD
Price: US $289.99

Pros
Blends into car design
Stable signal at high speeds
Both front and rear view can recording
Cons
Only display up to 2 cameras
Need to run wires from rear to front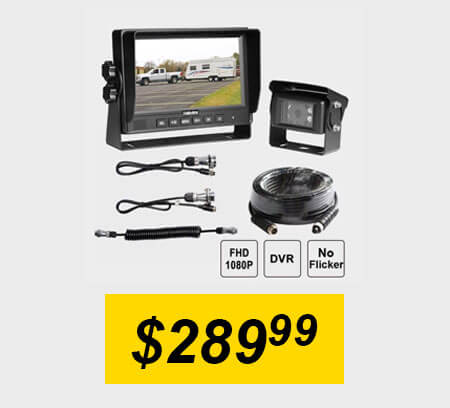 This system comes with everything you need to install the camera on the rear of the trailer and run two 4 pin wires to the cab to connect to the included 7" Full High Definition monitor. The quick connect/disconnect kit allows you to separate your 5th wheel trailer as simple as unplugging the lights of the trailer. It has a 1080P camera with superb night vision along with a 7" Full High Definition digital monitor for the ultimate in clarity day. Seamless loop recording can be set up in the menu, which allows the monitor to record over old footage when the SD card fills up.Seamless loop recording can be set up in the menu, which allows the monitor to record over old footage when the SD card fills up.
The heavy-duty weatherproof camera gives a 130° wide-angle view behind the vehicle or in the driver's personal danger zone. Rear assist parking lines are easy to make the appropriate adjustment in the menu as needed to help you reverse safely. The monitor supports display up to 2 cameras, you can choose to view two cameras on the screen at once using split mode or picture in picture mode.
Final Wrap
The best RV backup camera is an essential amenity for every RV owners. If your current RV does not have this component by default, then you have to get one as soon as you can. By having a backup camera, you can always maneuver your vehicle safely, wherever you are driving.
All of the units that I have featured here possess the qualities that you want for a backup camera. Among these, wired backup camera MC7616 can provide the highest display clarity and responsiveness. On the other hand, the wireless backup camera system Range Dominator series features easy installation, signal stability, clarity, and rigidity for rugged driving applications. But overall, these RV backup cameras can really do their job.