The RV backup camera designed for vehicles is a camera that uses the latest technology to help drivers back up easier. On May 1, 2018, The Federal Government required every vehicle must equip with a backup camera. Since then, it has become a standard driving assistance device on vehicles.
However, there are situations where you may want to purchase a new one. For example, you bought a car before 2018, and it didn't have one RV backup camera; your previous backup camera didn't work, or you weren't satisfied with the effect of the existing camera, etc. When picking a new, perfect RV backup camera within your budget, it pays to do some research. Here are some questions that may be helpful: What benefits can an RV backup camera provide? How many options do we have regarding RV backup cameras? How do we choose the best RV backup camera from myriad cameras on the market? We will discuss all these questions later in the content. Also, there will be some Haloview's best RV backup camera reviews at the end of the article. Hoping this article can lighten your load, narrow your search, and make it easier for you to find the best RV backup camera. Let's get started!
Content Table:
Benefits of RV Back-Up Camera
Protect Your Driving Security
According to the National Highway Traffic Safety Administration (NHTSA), nearly 840,000 blind-spot accidents occur in the United States each year, resulting in almost 300 deaths. These blind spots accidents cause lots of damage to the family involved. According to the NHTSA's estimate, if all vehicles have backup cameras, the likelihood of these accidents would decrease by 46 percent. So it is necessary to have an RV backup camera for your cars. It can eliminate blind spots and reduce the risk of accidents.
Save Money
Aside from avoiding blind spots accidents, a backup camera also can offer help when you reverse in parking lots or back up into a tight place. When you back up into campsite or a dive way, you may bump into a post or the walls, causing scratch or collision to your car. In these kinds of conditions, the cost of repairing wouldn't be a small amount. So having a camera to get extra assistance will save thousands of dollars for you. Get the information you need to know for your cars' behind by the RV backup camera, and you will avoid lots of preventable collisions.
Make Reverse Easier
Nearly all backup cameras feature on-screen backup guide lines. These lines would help parallel park, gauge distance, etc. With these guide lines of RV backup cameras, reversing could become more convenient.
Types of RV Backup Camera
If you search for RV backup cameras directly on the internet, you will find tons of reversing cameras on the market. All backup cameras for RV come in two types: wired and wireless. The difference between wired and wireless depends on whether the camera connects with the monitor by a wire.
Like all coins have two sides, both wired and wireless cameras have advantages and disadvantages. The wired backup cameras boast reliable and stable signals. But they are difficult to install, and sometimes drivers even need to hire a professional. The wireless rv backup camera is easy to install, but the signal strength is not as good as wired cameras. Generally, wireless rearview cameras wire into existing lighting wires, and the monitor is plugged into the cigarette lighter. They usually come with brackets and suction for ease of installation. Everyone can install it effortlessly with manual instruction. Both types of rv backup cameras are capable of meeting daily needs. You can choose a more suitable one for your cars.
How to Choose the Best RV Backup Camera
Besides considering which type of RV backup camera to buy, what else should we consider when picking a reversing camera? In our experience, figuring out the budget is necessary. You should figure out how much you are willing to spend on the backup camera for RV, which can narrow down your options. In addition, there are some features we can use to determine the good or bad quality of the camera. Here is a list we have compiled to help you check the quality of your RV backup camera.
The Resolution of the Monitor. A smaller screen accompanied by a higher resolution is best. Larger screens don't always mean better. If the monitor screen is too large, it may block part of your view and cause blind spots. 5-7 inches is sufficient for most vehicles. Just choose a suitable size according to the actual situation of the car. As for the resolution, 720p is usually enough. But the higher the resolution, the better. Some backup monitor screens can reach 1080p, giving drivers a clearer picture to see the details they need to know while driving.
Compatibility. The RV backup camera must work well with the monitor. A monitor with multiple input camera ports and support for split-screen mode would be a plus, making it easy to install another side camera or a rear camera later.
Signal Strength. A stable and reliable signal is critical. Any signal loss is very annoying and increases the driver's risk of driving. Make sure the RV backup camera can provide you with a steady signal so that you can focus on your driving.
Field of View. The backup camera's field of view determines the range you can get for the back of the car. Choose a reversing camera with at least a 90-degree viewing angle. 120-degree camera is a good choice. A wide field of view will allow you to see what's going on in your blind spot at the rear and observe if other obstacles or pedestrians appear in your blind spot.
Night Vision. This feature can help you drive safely in the dark. With an RV backup camera with built-in infrared lights, you can see images and videos of your vehicle's surroundings at night.
Waterproof. The backup camera with this feature can make your travel and camp more convenient. Even in the rain, the camera will work well and help you. IP69K is a high rating regarding water resistance. If the camera has this certification, then the camera will work fine in the rain.
By judging the quality of the camera based on these features within your budget, you will find the best RV backup camera.
Haloview's Best Wireless RV Backup Cameras
Haloview manufactures the world's most versatile, durable, and reliable RV backup cameras designed to improve security and efficiency. When you're looking to buy a backup camera, Haloview is a good choice. Below are Haloview's best wireless RV backup cameras reviews.
1. RD10 Wireless Rear View Mirror Backup Camera
The elegant in-mirror option with dashcam and backup camera.
Video resolution: 1920 x 3(RGB) x 320
Camera Viewing angle: 140 degrees (front), 130 degrees (rear)
Screen: 10" IPS Touchscreen
Connectivity: Wireless
Night vision: Yes
Video quality: 1080P Full HD (front), 720P HD (rear)
Price: US $369.99

Pros
Blends into car design
Stable signal at high speeds
Both front and rear view can recording
Cons
Only display up to 2 cameras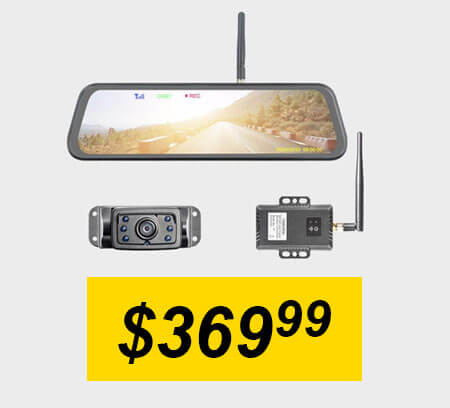 This wireless RV backup camera/mirror dashcam RD10 is a high-quality, easy-to-install camera product that could easily pass as a factory-installed option on your vehicle. The rear mirror display is built with a front-facing dashcam, and the whole mirror replacement is a touchscreen that lets you see the split-screen dual view or single front/rearview. The RD10 mirror monitor also records audio clearly and can save your video files for playback at a later time with an SD card.
The front camera, which acts as a dashcam, can be tweaked to your preferred angle, and its Sony Lens delivers good 1080P HD resolution and detail. The rear camera is a 720P wireless RV backup camera. Matching with the TX-BOX can ensure a constant signal reception. The camera itself includes 6 LED lights that automatically come on to illuminate the path behind you at night. It's also waterproof and will work in the rain.
About This Camera: The VanTop H612 is a 2.5K Ultra HD backup, rear, and front view camera. It has a full touch screen that mimics a rearview mirror. The VanTop also includes voice control and GPS tracking. It can also handle loop recording and night vision and includes a parking monitor.
2. RD7 Ultimate Wireless RV 4-Camera System
Range Dominator series is primarily designed for vehicles length up to 80ft, such as RV, Fifth Wheel, Travel Trailer, Motorhome and Camper, etc.
Video resolution: 1024 x 3(RGB) x 600
Camera viewing angle: 140 degrees (front), 130 degrees (rear)
Screen: 7" IPS monitor
Connectivity: Wireless
Night vision: Yes
Video quality: 720P HD
Price: US $678.99

Pros
Works with RVs around 33-80ft
Stable signal at high speeds
Display up to 4 cameras
Seamless Recording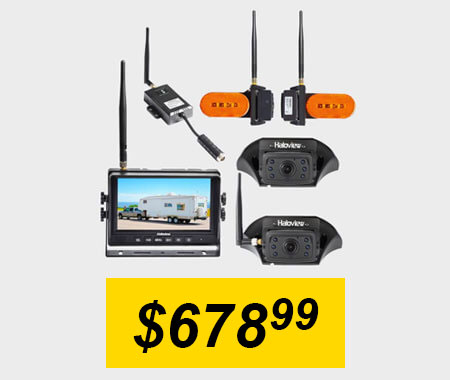 The wireless RV backup camera RD7 Ultimate is perfect for those who already own a Furrion pre-wired RV. The rear camera works using a wireless transmitter that is powered by your vehicle's 12v outlet. It transmits smooth video even when driving at high speeds and is rugged enough to withstand harsh weather. The camera displays a sharp image in the daytime and works well in low light. The side maker light cameras are attached to the clearance/marker lights, making them easy to install on your RV, commercial truck, and trailer.
The monitor can power by a cigarette lighter or a hardwired power cable (trigger wires), or both of them. This camera system can also be on at all times, which is useful when changing lanes. Backup camera installation is not too difficult, because you can follow the manual instructions to install with provided installation tools. All cameras have a 130-degree viewing angle, so it definitely helps eliminate blind spots and safer driving. The wireless RV backup camera RD7 Ultimate is our first recommended option for those who already own a Furrion mount pre-installed RV.
Summarizing
Finding the best RV backup camera is not an easy task for everyone. But knowing what we discussed above will make it easier, and there are some Haloview best wireless RV backup camera reviews at the end of the article. Hopefully, these will offer you help to pick the best RV backup camera.